Zach Avery shares his work ethic on how he got to L.A. and climbed the ranks of the working actor.
When you have a dream, a passion, your focus should always be clear. The entertainment field is saturated with great talent, people with millions of followers and let's not forget that sometimes you are in the right place at the right time…
Zach Avery has proven that the climb is possible. He worked non-stop and ate scraps to save up enough money to pursue is acting dream.
Gaining momentum over the last few years for his notable plot twisting roles, Zach is taking his career to the next level with the streaming and DVD release of Lionsgate's Hitchcockian thriller, LAST MOMENT OF CLARITY, which features Netflix's breakout star of "Hollywood" Samara Weaving, Carly Chaiken ("Mr. Robot") and "Successions'" legendary patriarch Brian Cox. Zach plays Sam, a husband on the run after his wife (Weaving) is murdered by the Bulgarian mob and resurfaces years later as a movie star in Los Angeles. Ahead of the COVID-19 lockdown, Zach had also wrapped filming on GATEWAY opposite Olivia Munn, Bruce Dern and Frank Grillo.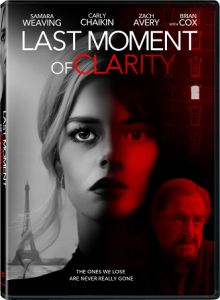 Your latest film, Lionsgate's Hitchcockian thriller Last Moment of Clarity, was recently released on DVD and streaming platforms. What was your audition like for this role?
I had worked with one of the producers, Andrew Levitas, on a couple films prior and he brought the project to me initially. I was immediately drawn to the role of Sam and wanted to meet with the directors, James and Colin Krisel, as soon as possible. After a couple casual meetings in which we discussed character, story etc., I began the read through process with them and other actors / actresses for about a month or so before officially getting the role.
Ahead of the COVID-19 lockdown, you wrapped filming on The Gateway opposite Olivia Munn, Bruce Dern and Frank Grillo. Tell us about your character and what process, if any, did you take to make him "real". Where was this filmed? If your portion was outside of LA, tell us about the travel you did.
My character, Mike, on Gateway was a guy that we meet coming out of prison. He was released early (after three years) of a seven year stint for drug trafficking and robbery. His wife (played by Olivia) and daughter had been managing while he was on the inside and he really wanted to come out and get his life back in order. Prove to them that he has changed and be the man that he should be for them. But life had another plan for him and getting straight was much easier said than done.
For the role, I did everything from actually going to a jail and taking all the steps that would actually happen if I were to get arrested to talking with ex-criminals, gang members etc. I needed to feel what it was like to be inside and in that life and what that would do (mentally) to a person in order to authentically portray Mike back in the real world after this experience.
We shot the film in Norfolk, VA – the production paid for everything – travel, hotel / apartment /daily per diem.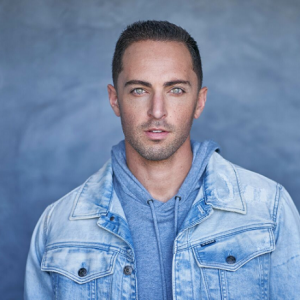 In your teens, you dabbled in high school theatre and joined the Football team at Indiana University until an injury ended your NFL dreams. But you had another dream — acting. So much so that you became a door to door salesman in the Chicago suburbs to earn the funds to get you to LA, which happened on New Year's Eve 2011. It's not easy achieving goals. How did you focus and maintain control of your acting goal?
In reality – I just convinced myself that this was the only option and I had to make it happen. When you don't have a plan B – you make sure Plan A works.
Once you were in California, you immediately started taking acting classes and expanding your sphere of influence. Do you still take acting classes? Do you recommend that actors of all stages in their career take coaching lessons? What is one of the best lessons you took with you from an acting class?
I still do private coaching sessions with a couple coaches that I have built relationships over the years for each specific role. I would definitely recommend actors of all stages to take classes, find a coach or two, work with other actors as much as possible. At the end of the day – the more you train – the better you will be and the more comfortable you get performing in front of people and/or the camera – the more natural your performance will be when you're working.
You have a wife and young son. With crazy entertainment work hours, how do you maintain a healthy family relationship? Does your son know you're an actor?
It is certainly a balancing act. The one thing that my wife, Mallory, and I have done is make a pact that we will not be away from each other for more than two weeks at a time. So if I am shooting somewhere – we will work out a way for them to come out or me to come back so that we don't go too long apart. It's crucial to a successful relationship for us. My son, Jax, is only 2.5 so he just knows I am "daddy" and doesn't care at all that he can see me on the TV – he's much more impressed with the Paw Patrol Dogs. My wife is extremely supportive and has always been my rock throughout my career.
Are you a member of the SAG-AFTRA union?
Yes. I shot a Bruce Willis cologne commercial as one of my first acting jobs in L.A. and told them that I was in the union when I really wasn't. When I got to set – they needed to Taft -Hartley me and I became a member. It was definitely cool to be "official".
A few years ago you did a short film by the Hallivis brothers called The Laughing Man which currently has over 5.8 million views on YouTube. What was it like working with the Hallivis brothers? How is working on a YouTube video different from working on a studio film?
I love working with the Hallivis Brothers – they have such a unique creative relationship that allows actors to thrive in a controlled setting while continuously getting the best performance out of everyone. Working on smaller production as opposed to a larger film set is honestly very similar when it comes to the actual work – you see the difference in set size, number of takes we get due to time constraints and food selection. Past that – hit you mark, know your lines and make magic whether it's a short film or a Marvel movie.
You're the co-founder and managing partner of LayJax Ventures. You met your partner Phil Haus through the Hallivis brothers. You're quite the entrepreneur! What exactly does your company do and what type of clients do you support? Who are your business heroes?
LayJax Ventures is a start up investment company that provides founders with seed investments to start or grow their company while providing them with our unique network in order to help them succeed outside of simply writing a check. We work with some badass companies such as Once Upon A Farm, Dream Pops and Zitsticka.
Business hero would have to be Jay Z. Multi-faceted and does things his way – love that.
Health and wellness is a very important part of your life. What type of activities really get your blood pumping? As an outdoorsy guy, have you ever gone camping?
Health and wellness is definitely a huge part of my life – its crucial to keeping my mind sane. I camped when I was a kid in Yosemite Park but haven't done much camping as of late – I would love to though! I make sure I workout 5-6 days a week whether that's running, lifting, hiking, indoor rock climbing – really anything that breaks a sweat and takes me away from the "real world" for a bit.
What advice do you have for theatre actors who want to try their hand on the screen?
Get yourself on camera ASAP! We use such different muscles when it comes to stage acting versus screen. On the stage – it is all about projecting and allowing the back row of the theatre to be able to have the same experience that the front is having. On screen – the camera catches everything – all the nuances, all the internal thoughts that are read through your eyes – its subtle and natural. Until you have experienced both and been able to dial in your performances – it may come off as over acting or unnatural but once you have done it enough… you will be able to go back and forth between screen and stage seamlessly.
Anything else you'd like to share?
Check out Last Moment of Clarity on Itunes and Amazon Prime Video!
A Midwesterner, Zach Avery spent his teens playing football and dabbling in high school theatre, ultimately playing for Indiana University until an injury ended his NFL dreams. While the arts continued to be a hidden passion, upon graduating he entered the Doctoral program at the Chicago School of Professional Psychology and joined underground comedy and local theaters groups. He ultimately decided to shift gears and take a leave of absence from his schooling to pursue acting full time and moved to LA in 2011, selling Quickbooks software door to door to fund the move west.
As acting classes helped him get acclimated to LA and meet upcoming directors, that led to work on shorts and indie films but he also found cultivating relationships to be the most effective way to get roles, finally landing CURVATURE in 2017 via his friendship with Producer Andrew Levitas. Over the few years they worked together on THE WHITE CROW; critically acclaimed on the film festival circuit about the story of legendary ballet dancer Rudolph Nuryev, directed and starring Ralph Fiennes and most recently LAST MOMENT OF CLARITY.
His greatest role to date has been that of husband and father to his toddler son, with another on the way. An outdoorsman at heart, Zach spends his downtime enjoying his newly adopted hometown of LA with Laker games, hiking, skiing, practicing his scuba diving skills and enjoying nature with his growing family.