LAILA ROBINS, who portrays the character of often misunderstood, ruthless KGB double agent Katarina Rostova in NBC's The Blacklist says, "The readiness is ALL".
What does Laila mean, exactly? Well, actors, you're about to get an eyeful of delicious reading that will help you throughout your career.
Laila's list of stage, film, television and acting credits is longer than my entire body, so I'm not even going to go there. All I know is that you've at least seen her in something and now we get to go inside her mind to find out what she did to have such a long-lasting career in show business.
Laila Robins' story, and her advice, is mind blowing, so pay attention kiddos!
Laila Robins as Anita in WESTSIDE STORY at the University of Wisconsin – Eau Claire. She's the one in red, jumping.
You're one of the rare actors who has been making a living in show business for decades. After receiving your undergraduate degree at the University of Wisconsin–Eau Claire, what made you decide to attend the Yale School of Drama.
I received my B.A. in Music at UWEC in piano and voice, but was always sneaking down the hall to do theater. I had wanted to be Joni Mitchell, but soon realized I didn't write songs, so maybe that wasn't going to work out.

I did so many shows there including summer stock every summer. I played Anita in WEST SIDE STORY, Aldonza in MAN OF LA MANCHA and Mamma Rose when I was 21. Hilarious! ! I had a great theater teacher, Dr. Wil Denson. He taught me so much, but most importantly to be ON TIME for rehearsal! Simple, but true. Don't disrespect other people's time. Another professor, Dr. David White coached me for the Fulbright audition, which was on video.
I applied for a Fulbright scholarship and received one to go to London, but didn't get into Royal Academy of Dramatic Art and was waitlisted for London Academy of Music & Dramatic Art. Weber Douglas accepted me, but I didn't know much about that school at the time. Earle Gister was on that selection committee. He also happened to be the Associate Dean of the Yale School of Drama. I went to the Yale audition in Chicago with my mother. I remember I was somewhat intimidated by all the actresses there auditioning. So many of them were in leotards and dance skirts. So many of them were smoking! I was in purple corduroy pants and a white blouse buttoned up to my throat with a red ribbon. I looked at my mom and said, "Mom… I'm not sure I'm an actress, I don't look like all of THEM!" She calmly replied, "You just go in there and do your pieces. Don't worry about them."
Earle Gister was in the room and remembered me from the Fulbright audition video, I guess, and weeks later I got the letter saying I was accepted! I wanted to go to London first, but Earle convinced me that I was going to be an American actress and that I should study in America, so I let the Fulbright go.
Laila Robins and Christopher Walken at the Williamstown Theatre Festival. This was Laila's first professional play: Chekhov's IVANOV
I took an apartment in New Haven, CT sight unseen and was completely intimidated by the city and even my classmates, who seemed so well read and sophisticated. Some of them had already tried New York. My father was a chemist for 3M and invented 48 things for them, but never owned the patents, so as a result he didn't get rich. I remember when I got into Yale he didn't know if we could afford it. He came to me one evening and said, "If you are good enough to get into Yale, then we will find the money." I was very moved by his generosity. Between student loans and work study I managed to get through and was able to repay him later. It was very fortuitous (there were only 17 of us in the class) and it was a wonderful education, got me to the East coast, introduced me to Nikos Psacharopoulus (who was teaching the undergrads at Yale) and Williamstown Theatre Festival where I got my Equity card and was first noticed by the New York Times and agent Sam Cohen. I had many great teachers at Yale, the movement classes with Wesley Fata (we remain the best of friends) where we learned a bit of Martha Graham's technique were wonderful and I had a big break through with Zoe Alexander's voice class where we practiced Kristin Linklater's technique, may she rest in peace.
Recently you've been playing Katarina Rostova in NBC's The Blacklist, starring James Spader (Raymond Reddington) and Megan Boone (Elizabeth Keene.) Your character has deep ties to Raymond and is the mother of Elizabeth.
I've had the fun and honor of playing Katarina Rostova on the BLACKLIST recently. Hopefully we will soon come back to finish. We had three episodes left to shoot this season and were interrupted by the COVID-19 virus. They created a finale with half of the show animated. I was turned into a cartoon for some of my scenes! I think it was quite successful. The show had been on for six seasons and had shown my character as a young woman. I had watched the show a few times in the first season, but had a lot of catching up to do. Quite frankly I simply couldn't watch all of the episodes, but was guided to a few important ones that would help me prepare. There has been a tremendous amount of build up to Katarina showing up. I have friends who are faithful watchers of the show and they had always wondered who would play the mature Katarina and they both got such a kick out of it when it ended up being their old friend Laila!
The coronavirus halted production of The Blacklist so the actors were brilliantly animated to complete the episode that was almost done.
Some viewers believe Katarina is just pure evil and others think she's a victim, having done what she's done to survive.
The fans often think she is pure evil or a victim. I love that there are very ambiguous responses to her as well. My goal was to be as enigmatic as possible. Keep everyone guessing. I always joke that Katarina is just terribly misunderstood.

To play her I must be completely on her side and fully embrace her experience and her motivations. She is such fun to play. Hopefully she is complex, human and multi faceted. In all of my work I try to find the contradictions in a person, as that is what makes them three dimensional and interesting. People can be quite unpredictable at times and perhaps never fully knowable. The challenge is that so many viewers have an idea of what she should be like, as with characters from a novel where the reader has imagined a certain thing and then a film version casts someone and it either jives with your imaginary version or not. I have gotten great feedback!
Walk us through your audition for this role.
The role of Katarina Rostova was an offer. I did not audition for it. Six years ago I was cast in HOMELAND and it basically changed my life as far as TV work. I have done many shows for HBO, but much of my work was focused in the theater, which I love. But HOMELAND was such a big and popular show that it really helped my career in TV. I did a season of MURDER IN THE FIRST, then a season of DECEPTION, all offers. So much nicer!!! Haha. I am very grateful and it was quite unexpected for me. The HOMELAND job came to me just a few months after my father had passed and I often feel that he sent it to me from heaven. We shot it in Cape Town, South Africa. What a gloriously beautiful part of the world! I spent five months there and was able to hike the mountains and go on safari. It was a balm for my soul at that time. Ever thankful to Alex Gansa and Judy Henderson for that gift.
Laila's first day on the set of The Blacklist. She had to kiss James Spader!
After receiving the role, what information were you given about the character? What was your first day like?
Before shooting THE BLACKLIST I had several phone meetings with the writer producers to discuss all things Katarina and I signed a non-disclosure agreement and am sworn to secrecy. All very exciting.

Not sure how long it was before my first day of work but it was in the West Village on that little one block street called Gay Street. It was made to look like a rainy night in Paris with ornate lamp posts. I met James Spader for the first time and what was the first thing I had to do in the scene you ask? KISS HIM!!!!! Haha. He was absolutely professional, lovely and helpful. We plotted it out by the numbers…."Okay, you say this line and then I'll say that and then we will kiss and then you say that and we kiss again and then you STAB ME!" It was a blast and we had a lot of fun. I felt very comfortable with James and I realized that this job was going to be fun. Wonderful actors, wonderful scripts and a GREAT crew AND a ten minute drive to the studio!
You were just involved with The Public Theater's What Do We Need to Talk About – The Apple Family: Conversations on Zoom which was written and directed by Richard Nelson. This is not the first time you've been a part of the Apple Family plays.
This time around, the show is a Zoom call due to the pandemic COVID-19, so the Apple family is in quarantine. Did you REALLY do this via Zoom in your own apartment? Or was it done with a camera somewhere else and PRETENDING to be a Zoom call?
Richard Nelson reminded us the other day that we started playing our characters in THE APPLE FAMILY PLAYS 10 years ago!!! What a gift! We get to grow WITH them. It's not like returning to a play where you played someone years ago. We are actually growing up with them. I feel so blessed to be part of the family. I learned so much from working on these plays that was helpful to my screen work. Richard's performance style is very subdued. He doesn't want drama or arguments. He wanted our voices onstage to be natural (we had a whole microphone system above us) and he wanted the characters to listen to each other and really try to understand each other instead of constant conflict. He calls it verisimilitude theater. We just put out the second Zoom play called AND SO WE COME FORTH, which you can view on YouTube until late August. It was a real zoom meeting shot from our homes. I am sitting on my living room couch in New York in the first one and in Minnesota in my childhood bedroom in the second. I had gone to visit my mom and rehearsed and shot from there. We had to finesse our own lighting and got to design our sets and costumes as well! All these elements were approved by Richard and the techs involved. We were given budgets for our food props as well. I went to the grocery store to get some frozen Indian food entrees and my red wine was pure pomegranate juice!
Laila Robins broadcasting Richard Nelson's WHAT DO WE NEED TO TALK ABOUT from her living room in Manhattan.
What's it like coming back to a character many years later?
The character of Marian is an easy fit for me. I bring as much of myself as I can to her. Of course there are ways in which we are different or our circumstances are different… but in her essence I feel very connected to her. Over the many plays Richard really began to write for us specifically. In the rehearsal process we are allowed a lot of freedom to question and tweak and suggest. Richard as the director is open to our thoughts and ideas… then he jokingly will say, "I'll run that past the writer and get back to you on that."
Is there a script? Were you allowed to ad lib?
Ultimately there is a final script and there is no ad libbing, except for perhaps a few noises, laughs or affirmations. His dialogue is amazingly natural, isn't it? Such a joy to speak. We hope to continue with the family in some way. I guess that's how the Zoom plays came into being. Richard Nelson felt that perhaps people would like to hear from the Apples during this very stressful and challenging time. It seems from the feedback that they did. I know it has been a saving grace for me, to have something to focus my creativity on and to be in community with Richard and all of those wonderful actors.
The whole idea looks like a lot of fun. How is doing the Apple Family different or the same as doing a network show?
I have known these actors and these characters for 10 years. We trust and love each other. You can't really underestimate the power of that. It brings depth and nuance and complexity. You can't underestimate the value of time. So many things today are fast, quick, expedient and shallow. Perhaps with the quarantine we are slowing down and accessing what really matters, what has real value, who do we want to be and how do we go forward.
Laila Robins' Broadway and NY debut in Tom Stoppard's THE REAL THING, directed by Mike Nichols. Seen here with Jeremy Irons.
You were in several Broadway shows including Frozen (2004) and Heartbreak House (2006). How did you earn your Actor's Equity Card?
I got my start at Williamstown. Nikos Psacharopoulus cast me as Sasha opposite Chrisopher Walken's IVANOV. Diane Weist played his wife. To be working on Chekhov with these two titans was unbelievable. It was a dream come true! I watched every rehearsal and studied their every move. I spent two summers as non-Equity and got my card playing Solveig in a production of PEER GYNT. That's where I met Olympia Dukakis (later I played Nina to her Arkadina in THE SEAGULL at her theater in Montclair NJ. She walked into rehearsal one day and said, "Hey guys! I just got cast as Cher's Mom in a film! MOONSTRUCK. The rest is history).
A big break for me was playing Alma in Tennessee Williams' SUMMER AND SMOKE at Williamstown. A role that I played two more times after that at Yale Rep and the Guthrie in Minneapolis. Christopher Reeve and Anne Reinking were in the Williamstown production. Heaven! The New York Times noticed me for the first time. I believe that led to Mike Nichols casting me to replace the character of Annie in the Broadway production of Stoppard's THE REAL THING opposite Jeremy Irons. Baptism by fire! It was my first show in New York. I lived in a hotel across from Penn Station for the first week. I had to find an apartment, learn my lines and debut on Broadway. I was 24 years old. Funny to look back on all that.
You have off-Broadway credits after receiving your AEA card. Do you have to get special permission from Equity to do off-Broadway shows?
I've done many off-Broadway shows. In fact FROZEN (not the musical) started at MCC and we had a very humble paycheck. Later we moved to Circle in the Square on Broadway. The photographer Richard Avedon was a big fan of the show and photographed us for THE NEW YORKER magazine. That was thrilling. As I recall we had no restrictions with Equity as far as doing off-Broadway at that time.
In theatre, is it boring playing a character that never evolves?
Another dear production to my heart was at the Lucille Lortell Theater in the Village: MRS. KLEIN with Uta Hagen. She became my mentor. I never studied formally with Uta, but I played her daughter twice and the run of MRS. KLEIN was nine months and then we toured for four months, so it was LIKE studying with her. She taught me a lot about spontaneity and keeping a performance alive. I remember in rehearsal one day she said, "Laila, you say your lines the same way every day" and I replied, "Well yeah, I guess I've figured out the way I want to say them and then I try to repeat that." She explained to me that THAT wasn't acting. She said,"If I change the way I say something, then YOU have to change how you REPLY and then I have to respond to precisely what you said and it will change (even ever so slightly) how I respond and so we continue. It's the only way to keep a play alive and in theater, all that matters is that something is truly ALIVE or the audience will stop listening. Surprise me!!!! Change it up (within reason and the given circumstances) and then we have a play and WE will never get bored with it either!".
What a profound and wonderful lesson among so many that I learned from Uta. I never studied with anyone in New York, but I would occasionally call up Uta for advice and guidance. I remember I was playing Hedda Gabler at the Guthrie and was struggling with something. I called her up and said. "Hedda is challenging… SHE this or SHE that, etc." and Uta immediately stopped me and said, "Okay, you are already thinking incorrectly because you should be saying I this and I that, not SHE!!!!! YOU are HER!!!' She was my artistic mother and I miss her very much.
Laila Robins at 2 years old. Not camera shy at all!
You recently visited your mom in Minnesota and have a sister there. What did your family think when you told them you wanted to be an actress?
My own mother and father were extremely supportive of my dream to be an actress. They were immigrants from Latvia, which has a rich musical and theatrical culture. We have had at least five singers at the Metropolitan Opera in recent years. My mother LOVES the theater and said she would even be happy to sit in an empty theater with a ghost light onstage. As a child in Latvia she would go to the theater and you know how a stage curtain will sway out with a draft before the show begins? This would create such a sense of mystery and anticipation that was absolutely thrilling for her. Her mother, my grandmother, was an actress in the community theater. My mother's teenage years and early adulthood were interrupted by World War II and the traumatic escape from Latvia and then living in an American run refugee camp in Germany for five years. My father was in a neighboring camp and they met there before Immigrating to Seattle, Washington where they picked broccoli for $5 a day. My father went to the University of Washington and received his doctorate in chemistry. Perhaps he would have liked me to pursue my volleyball talents. I got on the college team, but then was cast in a play and never looked back. When I would perform in three hour Shakespeare plays, running all over the place and changing costumes, I would say, 'See Dad, I AM an athlete!" My mother told me he really knew I had enough talent, perhaps to succeed, after he saw me in my first summer stock play, BAREFOOT IN THE PARK. Alma in SUMMER AND SMOKE and then my Blanche in A STREETCAR NAMED DESIRE at Steppenwolf were other milestones.
What was it like working with Steve Martin and John Candy in Planes, Trains & Automobiles?
My first Hollywood film was PLANES, TRAINS AND AUTOMOBILES. I had done one independent film with Kevin Anderson and Terry Kinney in Mexico prior and maybe a couple of TV shows. I did not have a lot of screen experience. I went out to L.A. to shoot and John Hughes said he wasn't happy with the set, which was our house, so they sent me back to NY for a week while they fixed it. The film was already weeks over time and beyond the budget and my role shot in one week at the end. Most of my scenes were alone or with my children. I only had the homecoming scene with Steve Martin and John Candy. They were both lovely people. I was a deer in the headlights and they were both very kind and supportive. When I went to the premier in New York I was shocked to see how much of my role had ended up on the cutting room floor!! That sentence really dates me, doesn't it? Film used to be an actual physical thing that was edited by cutting and pasting things together and the rejected film was discarded on to the floor like scraps of paper!

Laila Robins on the red carpet. Homeland was nominated for best ensemble cast.
You've done television shows where you worked on just one or two episodes, like The Handmaid's Tale, and you've done other series that were longterm, such as Homeland. What's it like building a character in just one episode vs. multiple episodes?
I have had to build a character for one episode for guest spots. If the writing is good it is helpful obviously. Recently I enjoyed creating a pretty interesting lady for BULL. When I read the words I kept hearing an accent in my head. I wanted to try that out. The costume fitting was revelatory as well. I played a mother who basically sacrifices one son for another. I had the words on the page. Great writing. The director Dennis Smith gave me a lot of confidence to go out on a limb. It was really fun. Amazing the difference when a director trusts YOUR instincts. Positive feedback is really helpful. I love being directed. I love working on the details. You have to work fast though. If you haven't met the director, you have to try to get on the same page and find a way of working well together quickly. You need to go in having made strong choices, but loose enough to adjust or change on a dime. I find that the more prepared I am when I go in, the more fun I will have, because I have the freedom to play and experiment. There are so many new things being thrown at you on the set that you need a very solid foundation to stay grounded. Dennis kept reassuring me that we would find it TOGETHER. There was a real sense of being on the same team. I think I work best in that atmosphere. THE HANDMAID'S TALE was one episode as well. That scenario was a bit more challenging in that, once again, the audience may have certain ideas about who should play Serena Joy's mother and what she should be like. I studied Yvonne Strahovski's work on the show and let my imagination fly! It was such a pleasure to be a part of that amazing show!
What do you do to keep sharp in your craft? Do you have an acting coach?
I do not formally study acting with anyone anymore. I am interested in creating a cabaret, so I have audited classes with Craig Carnelia and the impeccable Marilyn Mae! I also participated in the O'Neill's Cabaret conference where I studied with Barry Kleinbort and Penny Fuller. That was a blast! Feel like singing songs these days. Back to my Joni Mitchell dreams I guess.
Laila Robins in ELECTRA at The Shakespeare Theater in New Jersey.
Have you ever grown tired or weary of show business?
I've never wanted to quit acting. I love it. I always feel there is more to learn and I am blessed to have had the opportunities. There have been times when the career has been more challenging. I have subsidized my acting career with voice over work, although so much of that seems to have gone non union now. I taught at Fordham University as an adjunct professor and was lucky enough to chaperone groups of acting students to the Moscow Theater School two winters in a row. With my love for Chekhov, those were very special trips. Uta and Herbert Berghof asked me to teach at HB early on in our relationship and I have recently returned there to teach a class focused on Chekhov in tandem with the wonderful Frank Wood. We will perhaps be offering it again once we get back to "normal" or the "new abnormal". I stay involved with the Guthrie Theater in my hometown and am an associate artist at the Shakespeare Theater of New Jersey under the artistic directorship of my dear friend and colleague Bonnie Monte. I have done many, many plays with that company and it is wonderful to be a member of an artistic family. It becomes more and more precious to me as the years go on.
At this point in your career, what next steps are you taking to ensure you will continue working in the entertainment field?
I would love to explore other parts of the business. I have dabbled in directing. Would love to do more. I've thought it might be fun to adapt a novel into a screenplay. It's funny… I think I would make a good producer. When I am on a set, I can literally see where money is being hemorrhaged! Must be the immigrant's daughter in me.

Laila Robins and James Spader at The Blacklist's 150 episodes gathering.
Any words of wisdom?
Words of wisdom… hmmmm. Stay in love with the craft. The business part can be daunting and confusing. Back when I went to drama school we learned NOTHING about the business. It was a time when you couldn't even cross over from theater to film or god forbid you went into TV!!!! Now everyone does it all. It's wonderful. My dream was to be a stage actress and the rest was the icing on top. I think the first times I went to LA I was second guessing myself and trying to fit into what I thought THEY wanted. With age I have become much more confident in myself and what I have to offer. I was quite quick out of the gate as a young actress, but in many ways I wasn't really ready for it. I had a hard time navigating all the externals of it all. I was very focused on trying to become a better actress and honing my craft. I could have used a little help with the clothes and make up and photos, etc. I think the young people today are quite good at all that, what with all the demands of social media. That will get you a certain distance, there is no denying that, but don't forget the stuff inside… the readiness is ALL, as Hamlet would say. Keep studying, keep learning, observe other people's work, go see your friends in shows. Analyze and understand WHY you like someone's work. Break it down and see what you can use for yourself. Use EVERY minute in rehearsal….there is always more to be found! Show up on time and give your fellow actors room to work in their own unique way. Be a team player, be patient, be kind, be grateful, Huh… I could take some of my own advice!!!!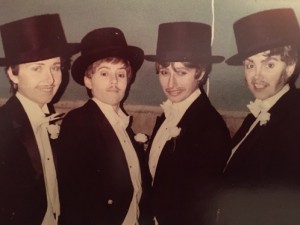 THE CLUB with Kate Burton, Fran McDormand, Laila Robins and Joan McMurtrey at the Yale Cabaret. Good times!