Networking is one of the most important aspects of an actor's career. It can help you find agents, managers, and casting directors, as well as other actors and professionals in the industry. There are many ways to network, both online and offline. Whatever route you choose (I suggest both routes!), it's important to be prepared and to make the most of each opportunity. Below are some tips on how to network for actors.
7 NETWORKING TIPS FOR ACTORS
Create an Acting Profile on casting websites such as DirectSubmit / NYCastings. 

Alan Feinstein, Dwight Schultz, Stockard Channing. Photo Credit Nina Krieger

An actor's profile is their resume. It is a document that lists an actor's experience, skills, and training. An actor's profile can be used to apply for jobs, auditions, and scholarships. There are many different ways to make an actor's profile. The most important thing is to make sure that the information is accurate and up-to-date.

Attend Industry Events, Meet-ups and Workshops. 

As an actor, attending industry events is a great way to network with people in the business and learn more about what's going on in the industry. Events can be a great place to meet agents, casting directors, and other actors. It's also a great opportunity to see new films and hear from industry professionals. Attending events can help you stay up-to-date on what's happening in the industry and give you the opportunity to learn more about how to break into the business.

Get Involved in Your Local Theater Community. 

There are plenty of opportunities out there if you know where to look. One great way to start networking is by attending your local theater and spending time at theater festivals. 

Local theater is of course based on your location. If you have the chance to go to opening night, sometimes there's a pre-show reception where you can mingle. 
Lou Milione, Christopher Reeve, Charles Tuthill – Williamstown Theatre Festival. Photo Credit Nina Krieger
Many festivals offer workshops and master classes that can help you improve your skills as an actor. 
One of the most popular festivals is the Williamstown Theatre Festival in Williamstown, MA. Below is a blurb from the Williamstown Theatre Festival's website. If this doesn't get you excited, I don't know what will. 
"Since 1955, Williamstown Theatre Festival has brought America's finest actors, directors, designers, and playwrights to the Berkshires, engaging a loyal audience of both residents and summer visitors. Each WTF season is designed to present unique opportunities for artists and audience alike, revisiting classic plays with innovative productions, developing and nurturing bold new plays and musicals, and offering a rich array of accompanying cultural events including COMMUNITY WORKS, Late-Night Cabarets, readings, workshops, and educational programs. While best known for acclaimed productions, WTF is also home to one of the nation's top training and professional development programs for new generations of aspiring theater artists and administrators. WTF was honored with the Tony Award for Outstanding Regional Theatre in 2002 and the Commonwealth Award for Achievement in 2011." 
Faye Grant, Kate Burton, Tisha Roth, Jennifer Van Dyck – Williamstown Theatre Festival. Photo Credit Nina Krieger

I must say, I was lucky enough to be in the audience at the Williamstown Theatre Festival several years in a row, and it was one of the most entertaining and memorable experiences of my acting life. I even got to go backstage and meet Christopher Reeve (Superman), Stockard Channing (Grease), James Naughton (Who's the Boss), Faye Grant (V, The Greatest American Hero), Marilu Henner (Taxi), and George Wendt (Cheers).
Join an Actor's Union or Professional Organization. 

Another great way to network is by joining an actor's group or association. These organizations provide a supportive community of fellow actors who can offer advice and feedback. 

It's not easy to join Actors Equity Association or SAG-AFTRA, but let me tell you, if acting is what you want to do as a career, then you should set high goals for yourself and do whatever it takes to become of a member of these organizations.
Sandra Bullock in Bird Box
SAG-AFTRA has many programs for members, one of them being the free Conversations, hosted by the SAG-AFTRA Foundation, in which you attend a screening with other actors and afterwards, there's a Q&A usually with some of the actors and/or director. I saw Sandra Bullock at a Conversations event. It was amazing to hear behind the scenes stories and ask her a question! Some of the big ticket films have lines around the corner; standing in line for an hour among other actors is a great way to network.
Use Social Media to Connect with Other Actors and Industry Professionals. 

In today's world, social media is a powerful tool that can be used to connect with other actors. By creating a social media account, you can connect with other actors from all over the world, share your work, and learn from others in the industry. Additionally, social media can be used to promote your work and connect with casting directors, agents, and other professionals in the entertainment industry. There are various platforms you can enjoy, such as Facebook, Twitter, Instagram and TikTok.

Get a Headshot and Resume That Stand Out. 

Well, this is a no brainer. Your headshot and resume are your first impression to casting directors, agents and producers. So how can you make sure they stand out? 

First, make sure your headshot is high quality and up to date. If you have a professional photographer take your picture, that's great. But if you're on a budget and have a high-end smartphone like the latest Samsung Galaxy or iPhone, you can take your pic and use an app to adjust the picture and background. 

Next, make sure your resume is well-organized and easy to read. List your skills and experience in bullet points, and be sure to quantify your accomplishments whenever possible. 

Finally, tailor your headshot and resume to each role or industry you're targeting. If you're going out for a lead role, your headshot should look like a leading man or woman. Your resume should be easy to read and showcase your skills as an actor.

Stay Positive and Persistent. 

George Wendt – Williamstown Theatre Festival. Photo Credit Richard Termine 

No matter what life throws your way, always stay positive and persistent. No one can control everything in life, but you can always choose how to react. Stay focused on your goals and don't let anyone or anything stop you from reaching them. Persevere through the tough times and be grateful for the good ones. Remember, it's not about how many times you fall down, but how many times you get back up. So keep your head up high and don't give up on yourself or your dreams.
*****
Networking is key for any actor looking to make a name for themselves in the industry. By attending networking events, meeting with agents and casting directors, and staying in touch with other professionals in the industry, actors can create relationships that will help you get work and further your careers. It can be difficult to break into the business, but with hard work and a little luck, networking can help you take your career to the next level.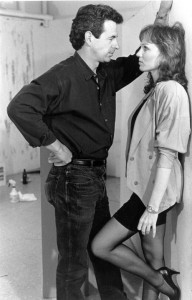 James Naughton, Marilu Henner – Williamstown Theatre Festival