There is no denying that the life of a child actor is drastically different from that of other kids.
For one, they often have to juggle acting and schooling, which can be difficult. They also typically have to deal with intense pressure and scrutiny from the public and paparazzi. Child actors also tend to start working at a young age, which can be tough on their development. Finally, many child actors struggle when they reach adulthood and try to transition into "normal" lives.
They also typically have very strict schedules, which can limit their ability to socialize with other kids. In addition, child actors often make less money than their adult counterparts, which can be difficult for them to manage.
Many people think that when a child actor becomes famous, they automatically have a perfect life. But in reality, when a child becomes famous at a young age, it can be difficult for them to adjust to life after Hollywood. Many child actors struggle with drug addiction or mental health issues later in life.
While many child actors enjoy a brief period of fame before returning to a normal childhood, others find that their time in the spotlight extends well beyond their formative years. Some child actors grow up on set, surrounded by cameras and crew members who become surrogate family members. In many cases, these young stars are able to maintain a successful acting career while avoiding the pitfalls that often plague child celebrities.
Here are six child actors who grew up on set and managed to maintain their careers into adulthood:
Drew Barrymore in Firestarter
Drew Barrymore
Drew Barrymore was born on February 22, 1975, in Culver City, California. Drew started acting when she was just eleven-months-old, and her career has spanned decades. She is one of the most successful child actors in Hollywood history.
Drew made her film debut in Altered States (1980), when she was just five years old. Her performance in E.T. the Extra-Terrestrial (1982) made her a household name. Drew went on to star in dozens of films and TV shows throughout the '80s and '90s, including Irreconcilable Differences (1984), Firestarter (1984), Doppelganger (1993), and The Wedding Singer (1998).
In 2002, Drew Barrymore published her autobiography, Little Girl Lost. Today, you can see Drew on stream on The Drew Barrymore Show.
Emma Watson in Harry Potter and the Order of the Phoenix
Emma Watson
Emma Watson is a child actor who has starred in several films and television programs. She is best known for her role as Hermione Granger in the Harry Potter film series. Watson was born in Paris, France, to English parents, Jacqueline Luesby and Chris Watson. When she was five, her family moved to Oxford, England. Watson began her acting career at the age of eight, appearing in commercials and making her screen debut in the 2001 BBC film Ballet Shoes. As an adult, you may remember seeing her in Little Women in 2019.
Ryan Reynolds and Morena Baccarin in Deadpool
Ryan Reynolds
Ryan Reynolds began his acting career at the ripe age of 7. He was cast in a small role on the Nickelodeon show Fifteen. Reynolds would continue to work steadily in television throughout his teenage years. In 2000, he made his feature film debut in The Amityville Horror. Reynolds would go on to star in a number of films, including Van Wilder, Blade Trinity, and The Proposal. His performance in 2010's Buried earned him critical acclaim and he was nominated for a Golden Globe Award for Best Actor. In 2016, Reynolds starred in the box office smash hit Deadpool. Deadpool 3 is soon to be released!
Kirsten Dunst in a scene from the film 'Interview With The Vampire: The Vampire Chronicles', 1994. (Photo by Warner Brothers/Getty Images)
Kirsten Dunst
Kirsten Dunst had her big break at the tender age of 12, when she was cast as Claudia in Interview With the Vampire: The Vampire Chronicles (1994). She reprised her role for the sequel, Interview With the Vampire: The Vampire Chronicles – The Final Cut (2004), and again for the short film Lestat (2006). In 1995, Dunst starred in Little Women opposite Winona Ryder and played Torrance Shipman in Bring It On (2000).
Dunst has since appeared in a variety of films, including Woody Allen's Melinda and Melinda (2005), Cameron Crowe's Elizabethtown (2005), Wim Wenders's Palermo Shooting (2008) and Jim Jarmusch's Only Lovers Left Alive (2013). Most recently, Kirsten was seen in Netflix's The Power of the Dog.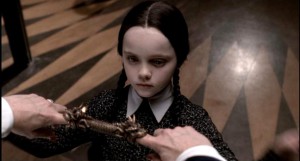 Christina Ricci in The Addams Family

Christina Ricci
Christina Ricci is known for her roles as a child actor in films such as The Addams Family and The Ice Storm. She later transitioned into more adult roles in films such as Monster and Prozac Nation. Ricci has also starred on the TV series Pan Am and Z: The Beginning of Everything. You may remember Christina in 2021's The Matrix Resurrections and more recently, Monstrous.
Christian Bale in Empire of the Sun
Christian Bale
Christian Bale is a British actor who has starred in both American and British films. He is known for his intense method acting style, which often leads to physical and emotional transformations for his roles. 
Bale began his acting career as a child, appearing in small television roles. His first major role was in the Steven Spielberg film Empire of the Sun at the age of 13. Bale went on to star in a number of high-profile films, including Batman Begins, The Dark Knight, and The Fighter. He has won critical acclaim and numerous awards for his work in film, including an Academy Award for Best Supporting Actor for The Fighter.
Ariana-Grande-in-Victorious. Photo by Carin-Baer.-2010-Viacom-International-Inc.

Ariana Grande started her career at the age of thirteen, starring in the Nickelodeon series Victorious. Grande had a supporting role as Cat Valentine, a high-spirited and caring friend. The show ran for four seasons and made Grande a household name.
After Victorious, Grande starred in the spinoff series Sam & Cat. The show was canceled after one season due to a scheduling conflict between Grande and the show's producers.
Grande has since released six studio albums including "Positions", "Yours Truly", "My Everything" and "Dangerous Woman".
*******
There is no denying that the life of a child actor is drastically different from that of other kids. While other kids are playing in the park or going to school, these young actors are working long hours on set. But it is often said that those who grow up in the entertainment industry have a leg up on their competition. This may be because they are used to being in the public eye and have learned how to deal with criticism at an early age. Some of the most successful actors and actresses began their careers as child stars. Whether they continue their careers or not, most child actors have interesting stories to tell about their time spent growing up on set.