…And The Winner Of Majors and Minors Season One Is…
MICHAEL WOODARD
These words catapulted NYCastings member Michael Woodward from a 14-year old church singer to an internationally known talent with an RCA Records deal. His "spark" won the hearts of fans on the popular reality singing show Majors & Minors. But first, Michael won the heart of Lindsay Spaulding – Casting Director.
"As soon as I saw his submission and watched his videos, I knew that this kid was a star," Lindsay Spaulding shares with NYCastings. "It was so exciting when he won, taking home the top prize of a music publishing deal and a record deal with RCA Records."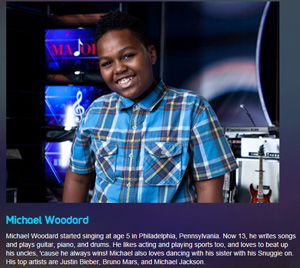 Here is how NYCastings member Michael Woodward got his voice heard cross country…
Q & A w/Lindsay Spaulding
Q: What did you see in Michael Woodward, specifically?
His smile. He has a spark. From the moment I first saw his video, which was very low quality of him singing in a church, I could tell he would light up a room. Then, I got him and his mom on the phone and walked them through making the video that we would pass onto our executives.
Q: You are a Los Angeles based casting director. Why do you use NYCastings?
Lindsay Spaulding is a Los Angeles based freelance casting director who casts. When I am casting nationwide, I want to make sure I reach out to every casting site to make sure that my information gets to as many people as possible. In order to find the best of the best, I have to make sure that as many people as possible know about the opportunities.
Q: For Majors & Minors, how many people submitted?
Around 40,00 submitted including the open call, nationwide videos, and executive referrals. We also reached out to agents for them to send us their top clients.
Step one was to get the word out. Step two was for the talent to make a video. We watched every video. Anyone who caught our eye, or we saw potential in, we reached out to. Then, w
ith our executives, we narrowed it down to around 70 or 80 people.
Q: You reached out to agents – yet the winner came from NYCastings?!
Yes. Casting sites are perfect because it gives the talent an opportunity to submit directly, especially if these people don't have an agent. It is something you can do on your own without feeling left out. A way for people who don't have an agent to still get the inside scoop. And, casting sites are an easy way for casting directors to see the spectrum of who applied because we can see the video and contact information in one view.
Q: So, casting sites are good for kids to use?
If you are a young adult interested in getting into the industry, my suggestion is to get yourself out there as much as possible. There is nothing negative about getting yourself out there. The only negative thing that can happen is that you miss out on an opportunity by not getting out there. I would hate to find out the day after that there was an opportunity that I missed because I was not on the casting site. Knowledge is power!
Q: For child actors, are reels important?
If your kid is interested in acting, singing, hosting, or moderating, and has any experience, I would say to figure out a way to get something visual to represent this. Especially in this day with iPhones and videos being so readily available. You must have video of your kid walking a runway, or singing at a talent show, or putting on a stand-up comedy show in your garage. Let the casting director decide if the video piques their curiosity. No one is going to watch a video of a kid showcasing talent and say "I wish I didn't have that video. "They are only going to say "I wish there were more videos."
Q: Would you have chosen Michael if he didn't have a reel on NYCastings?
I definitely like to reach out to everyone. If you don't include a video, you don't get passed over. But we can't go further until you do have a video. So I recommend that you do have one. If there is a submission with 1000 people, we don't have time to sit through all of them. We are going to go to the ones with video first because we can investigate immediately.
My advice is to always read the casting notice and provide the casting director with as much of your experience as possible. The more you can showcase your talent initially, the greater chance you have from the start.
Q: How important are headshots to you?
I do a lot of reality so we are looking for real people, with real talent. So for me, If you don't have a headshot I recommend you find a great photo where I can see you. That being said, for a scripted non-reality casting I think that would be different.
Q: What should parents expect when submitting their child to a reality show?
As a parent, if you agree to go along this path with your child of being a part of the industry, then you need to keep an open mind. You need to present yourself in the best light, and your child in the best light. Negative energy is a turn off. At the end of the day, the parent is submitting information over the internet about their child, and I do respect parents who are cautious. But I assure parents that my casting is legit. My job is to do whatever it takes to get a talented individual on a show. I am here to respect your time and you mine. We are working together.
Q: How can parents make sure they don't get scammed?
Google is a wonderful tool. If you Google the casting director's name and nothing comes up about past shows or the current show they are representing, then maybe stop while you are ahead. But if someone has cast one or two shows, they will have something that comes up in a Google search. People can take my name and Google it and see 20 shows that I worked on.
Q: Do you Google people who submit themselves?
Yes, but mainly to see if they have been on another show, or if they are serious, or if they have any additional videos. And, of course, we don't want negative press on our talent. We would not want to have the public Googling a cast member and have them finding anything negative.
Q: What do you look for on resumes?
I honestly don't pay much attention to resumes. If we are looking for singers, I want to hear you sing. If we are looking for dancers, I want to see you dance. For me to read 75 things that you have done doesn't tell me if you can sing or dance. You would be amazed at how many people have been the leads in plays who can't sing or dance.
Q: Any inspirational advice for actors?
The reason I do my job is because I get so inspired by the talent that I encounter. I love to watch someone who was sitting in their home, who decided to apply for a show, and 6 months later they have a record deal.
I just worked on casting The Glee Project Seasons 1 and 2. I was in the screening room and they would have the kids come in five at a time. One kid forgot the words, but I could tell that she could sing. I told her to take a breath and then I came back to her. She passed through that audition and went on to be one of the twelve. She came up to me and said "I can't thank you enough. If you didn't believe in me, I would never have had that chance." But that is my job. My job is to get you as far as possible, and your job is to show me your talent.
Everyone has their opinion about reality but they don't know the success stories like I do. I will continue to provide people with opportunities they wouldn't have without my being involved , or without your site.
…Thanks Lindsay!…
Here's an article about Michael WINNING!!!
http://music.yahoo.com/blogs/reality-rocks/exclusive-watch-michael-woodard-majors-minors-winning-moment-193633715.html
Produced by Boardwalk Entertainment Group, in partnership with BMI and Sony Music Entertainment's RCA/JIVE Label Group, Majors and Minors was the brainchild of BMI hit songwriter and Boardwalk principal Evan Bogart. The show debuted in April on the Hub TV Network and quickly became a fan favorite. The series followed 12 young performers as they developed their unique skills with top stars and industry pros, who mentored them to stardom. The reality show distinguished itself by eliminating no one, offering incredible mentoring opportunities to all cast members throughout the season.