From Spain, photographer/director Wilhelm Scholz has traveled the world producing imagery for advertising and editorial clients in countries such as New Zealand, Greece, The United Arab Emirates, China, Peru, and more.
His keen eye for capturing the essence of a location, developed while working in New York as a first assistant, producing shots and making sure all was in order on set.
Before long, he took the next step.
"I realized I could do my own thing," Wilhelm Scholz shares. "I saw what people were doing and felt confident I could do that as well. So, I built a portfolio of what I really like, which is travel with a commercial twist to it.  All location based, very little studio."
Currently the owner of Wilhelm Scholz Studio, Wilhelm casts for both print and commercial work. So we asked him to share his twist on the print and commercial industry, with NYCastings.com…
As a director and photographer, how do the two intertwine, style wise?
For print, in advertising, the only difference is the thought behind it.  You are always making pictures, not taking pictures. You are making a vision from scratch depending on what the needs are for a client. It is almost like doing a treatment. Things need to be considered like page placement, where a logo may go, the format of a spread or single page. And you shoot based on the parameters required.
In the print shoot you tell the story in just one image. With film you tell the story in segments. Every piece must flow in film. Even if every frame is not as strong as one single image, it must relate to the next and get the point across well.

You have such a unique style, how would you describe your vision?
My projects, what I have to show in my portfolio, is a sense of place. Most images are taken in places that you would want to be in and then I add a commercial value to it. To make it not a product shot, but products within landscapes. Simple. Clean. A lot of people have said my work is quiet. I guess that is the signature my work has.
For print, and films, I leave nothing to chance, everything is choreographed to be what you see.  What you see is meant to be there.
What quality do you look for in actors?
First it depends in the product or shot – what is needed. What character fits the brand? Is it upscale or not? And then, we do a regular casting call. On the go-see you can tell if their demeanor matches the part. They are supposed to be acting, even if it is for print. Print has the same choreography behind it, you re-enact a moment. It has a beginning, an end, and the middle part is where you take the picture.  The challenge is to find the right person for the project because they are a product as well. It's not the best looking person that makes it. It's not necessarily the most qualified. It has to be the right person.
For sports, the person has to be good or it looks fake. You can tell that they don't have the experience. Most actors or models put things on their resumes that say they are experienced runners or tennis players and that is not true.  There are certain techniques that need to be exact.
So, many times, when I cast for sports, I go to sport agencies because a marathon runner knows how the body needs to conduct itself while running versus someone who runs around the block a couple of times a week.  They also have the body structure. It gets very specific with sports talent.
Also, I did a shoot for a German company for a resort and we had to cast the perfect belly button. You would be amazed,  everyone imaginable came by. Everyone, extremely beautiful. But there are so many variables with the shape and the muscles of the belly button. There were thousands of people we ended up using Ms. Greece because her muscles and curvatures were perfect for the ad where the belly would contain water and have sand. That was a challenge.
What advice do you have for print models/actors?
The most important thing is for people to show pictures that are right for the part. A lot of people spend time building a portfolio showing pictures for things they would never be hired for. The guy who flies a plane is not the same as one who would run a hot dog stand. Explore what you have to offer and stick with that because there are so many people to choose from. You need to do what you do best
Everyone has a look. That is, unfortunately, a cliché for the market. Some people have the perfect secretary look, or young mom, chef, athlete, cop, whatever. But a lot of people spend time with pictures as characters that will not pay off. And when casting, the bad fits stand out. You react to the negative pictures and it is something actors should avoid.
Everyone has a good sense of who they are, what they can pull off.  Stick with who you are, it is the safest way to get work.

How can an actor explore who they are?
Go to castings for directors and on go-sees and learn what feels right. It is a trial and error thing. A matter of trying it out and being able to edit out what definitely does not work. I casted something for levis and it said long legged because the jeans had to fit a certain way and people submitted pictures that were 5'2″.  They have to know that they do not fit the bill and it doesn't help them to be rejected. People probably take it as a failure, not to get the job. But they are not a failure. They are just not right for the project. Better to avoid it.
As an actor, I would figure out what looks best and what I can pull of best. Some have great smiles and some don't.  Some can show worry and some can't. It all comes down to acting, even in print.
How do you find your models/actors in NY?

There are certain agencies everyone pulls from; Cunningham (CESD) and Funnyface, the people who have a pool of people one can rely on. The one thing that makes people tentative is when they pull talent that are not serious enough to show up for the casting. So go to places that give you security, whose reputation is something you can count on. Actors should know that if they do not participate in a serious manner, it will affect them and the agency they are behind, especially if it is an internet agency.
I stick with agents, even an internet based place like NYcastings.com, because the people have made an effort to put themselves out there. And there is a fee involved, so you know they are committed. It is one step closer to a serious person in the industry. If you put an ad on Craig's list the actor may never show up. You don't do that unless you don't care.

How important are comp cards for print work?
It is great to see the pictures, but nothing is better than the go-see because you can see the person. With technology, most of the comp cards are re-touched. People make their eyes lighter, or cut hair off an ear, and it looks nice but it is not the person you are meeting.  Plus, when you meet a person you see if the person is workable. There may be situations where that person has to interact with a child or another person and if they are too shy or serious you know that will not happen. The person has to fit what you are trying to accomplish.
Do you ever find new faces on the streets on NYC?
Sometimes. When it is very character based role and the talent pool is limited, say for example an Aborigine. There are not a large pool of that ethnic background so you get a casting director, or a couple of assistants, and do street casting. You present what you are trying to do and if they are interested you take a picture right then and there on the street. Then, if they are close to what you need you contact them and set up a go-see. That is done quite a bit when you want real character types of people.
Do you do open casting calls?
No. It is something I would be open to as long as the people who come do not come with expectations. Things are what they are. There is no promise of anything.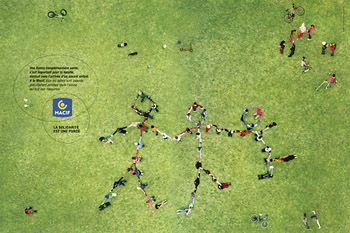 What picture of advice, direction of inspiration, would you give to models/actors?
We all are in the same boat, just in a different part of it. No one is bigger or smaller or better when doing a project. If everyone cooperates, and is as excited  as the next person, that is when a job goes very well. The moment a person thinks that being background doesn't matter or an assistant thinks what they do doesn't matter, it gets tricky. It is a team effort. We are all trying to do the best, creative job as possible that accomplishes what the client is looking for.
The hardest part is to get the job. The easiest part is to do it because they hired you. You already know they like the way you are.
And, don't second guess yourself. If you do… what you do… you will always fit somewhere. There will always be a part for you, as long as you are true to who you are.
– Thank you Wilhelm Scholz for sharing your vision with us!
For more insight on Wilhelm… check out www.wilhelmscholz.com