Way before The West Wing, Emmy Award winning actor Richard Schiff actually "did odd jobs in New York City."
He shared his story with NYCastings at The Creative Coalition event at Sundance…
"I drove a cab in New York and that was threatening to my life," shares Richard Schiff. " I was headed in the wrong direction. That's why finding the theatre, finding a manner in which to express what was happening in my life was my biggest break."
"Acting saved my life," shares Richard Schiff who is known for playing a White House Communications
Director though in real life, he does not always stick with a firm agenda. In fact, he often makes up his mind – in the moment, which may explain why his acting is so real and dynamic.
"People often ask me why I pursued this career," says Richard "and I say, 'for me it was following my curiosity.'"
"I was always very curious as to why I would see a movie that Robert Redford, Pacino or De Niro were in and that would change my state. I would be very moved by it. But I would see another movie and it didn't work. I was fascinated as to why that was and so I went on a trail trying to figure that out."
Getting his start in theatre, Richard studied acting at City College of New York.
"I started directing and producing theatre and then I started acting as a curiosity because it was a mountain of fear for me," says Richard. "I wanted to climb that mountain and see what would happen, so I started acting on stage. Then, I just found myself in LA because I had gotten divorced from my first wife, who I still love, and decided on a whim to go to LA. I started getting jobs and doing plays. I didn't have a picture or resume or agent but someone said to come audition for a play and that is where my career went. Then I started to do a lot of good movies and some good television."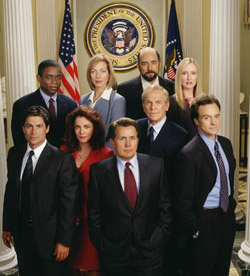 When West Wing came along Richard "knew right away it was going to be a big deal because the script was so well written."
But Richard didn't sign on to West Wing, right away.
"I had a big debate as to whether I should do it," reveals Richard. "There was a movie that I was up for and I was told that if Steve Buscemi drops out then the part was mine. That conflicted with the pilot of West Wing and my agent asked 'which do you want to do?' and I said 'the movie, it is not even close.'"
In addition to having a film lined up, Richard Schiff didn't say YES to the West Wing audition because he thought they already hated him!
"The year before West Wing, I was doing very well with auditions and moving up in my career and everyone wanted to see me at that point," says Richard. " I had four different pilots I was working on but when I would go to the producers and network to agree on money for the next seven years – I would go through panic attacks."
"At one point, I got a deal and I was driving around the NBC building but I could not go into the garage. I kept going around the block. I would see the garage again and go around the block, again. Then I got a call from my agent asking where I was and I said 'around the block' and he said 'so you are going in soon?' and I said 'I don't know.' I drove around three more times and then I realized I didn't want to go in."
Richard didn't want to sign onto this particular show because, "the sitcom was a bunch of kids and I was playing a super in New York."
"I realized that I would have to go on stage for the next seven years with a bunch of kids throwing pencils at me," shares Richard.
And that was not the only time that Richard turned down an offer.
"This happened three more times. And my price kept going up because I realized I did not want to do television. So NBC hated me," says Richard.
"But then, the movie fell through and I was depressed so I went through the West Wing process."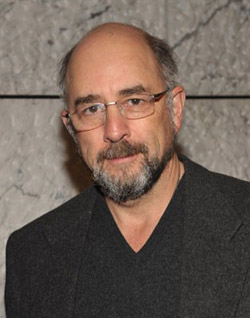 "I was on the second round of auditions and Aaron Sorkin and Tommy Schlamme took me out afterwards," recalls Richard. "They said that they were going to bring my in again and hoped they would see me in the morning. I told them I may not show up and they said, 'yeah, we've heard that.'"
"I also said that I might be really bad, because I am really bad at these tests, and they said 'we heard that too.' And then Tommy put his hand on my shoulder and said 'I really want you there.'"
Still – Richard Schiff had not made up his mind about The West Wing. But then, "I turned the corner to leave and saw Allison Janney sitting there and I thought to myself – ' If they cast this woman, they really know what they are doing,'" says Richard. "That gave me more excitement about it and I did go in."
Given Richard Schiff's tendency to make decisions up after prolonged consideration, it figures that he still has questions about being an actor.
When asked, 'When did you decide to become an actor?' – Richard simply says – "I haven't yet decided. It is a serious debate."
Yet there is no question over which people have meant the most to him.
"Tommy Schlammey is my mentor right now," says Richard. "And my ex-wife. She is a writer and fantastic. She is the smartest human being I have ever met. She could quote Chaucer or sit down with a micro brain surgeon and have a conversation. She taught poetry and would come home dripping sweat because of everything she gave. So simply, she was able to get twelve year olds to write what they saw and were thinking. She got the images out of kids and gave hem parameters no one ever gave to them. Today, she still gets thank you letters from students. "
"That is a real mentor," shares Richard. "She changes people's lives."
In Richard's life, his future plans include a Broadway play in the fall called Talley's Folly.
"I am also developing a film, which is the first time I have done that," says Richard Schiff. "It is one of the reasons I came to Sundance. I already have the funding and am looking for a writer and director. I am very excited about it."
Very exciting indeed!
From his deep curiosities to his brilliant performances and belief in changing lives – Richard Schiff continues to share a truly unique voice and style.