Go directly to Sundance!
Boy, does that statement sound exciting. And, although it is NOT that simple to get into the acclaimed festival – in fact some have called getting in "a minor miracle" – creating a short film is one way to cut through the seemingly 'A-list required' feature line-up.
To learn more about what it takes to get a short into Sundance, NYCastings reached out to 3 amazing directors. Here is the truth about their filmmaking road to glory…
Q&A with Director Kyle Henry
FILM: Fourplay: Tampa
Film length: 17 min
Q: What is the Inspiration / reason why you made this film?
FOURPLAY is a series of shorts regarding sexual intimacy that are designed to get adults talking about sexuality. FOURPLAY: TAMPA will certainly do that! My screenwriter Carlos Treviño got the idea for TAMPA from a conversation with gay friends about penis size and cruising. He also used a Tom of Finland cartoon as inspiration for the film's setup and structure.
Q: How do you view the competition of getting a short into Sundance versus a feature?
I think it's A LOT more difficult getting a short into Sundance. The odds are so much lower than features! I've been entering shorts for over 20 years and this is the first time one of mine is playing. Getting in is basically a minor miracle, so shorts directors should definitely feel like winners!
Q: Do you believe that comedic shorts have an advantage?
There's not necessarily an advantage in terms of winning the competition. As a filmmaker, it's more fun to bring a comedy because there's immediate and audible audience feedback. With dramatic shorts, audience reaction is harder to judge. If you're doing your job well, you might get a few sniffles.
Q: How did you get such a big name, Michael Stipe, attached to your short?
I was fortunate enough to meet Michael's C-Hundred Film Corp business partner, filmmaker Jim McKay, when he sat on the Austin Film Society's Texas Filmmaker's Production Fund jury back in 1997 and awarded my doc AMERICAN COWBOY a big grant. I sent him the final film (Pointer: always do this when you finish your work!) and he liked it, so we've stayed in touch ever since. I got to know Michael through my feature ROOM, which C-Hundred executive produced. I've never met the man in person, but I gratefully count him as my mysterious benefactor. We've swapped email a few times. Thank you, Michael, wherever you are!
Q: You are attending Sundance with your short as a hopeful gateway to a future, accepted feature. How will you go about trying to make that next leap?
FOURPLAY is an anthology of shorts, and TAMPA is but one part. The feature is now complete and awaiting festival acceptance. In the meantime, we're running a Kickstarter campaign to raise $10K for final sound mix/color correction and publicity for our launch. Please check out this link (http://www.kickstarter.com/projects/kylehenry/fourplay?ref=live) for more info about the feature. For a measly $10 donation you'll be able to see our outrageous little film online shortly after Sundance.
Q: One of your actresses in a previous Sundance film, ROOM, in 2005 – went on to receive an Indie Spirit Award Nomination. As a director, how do you help to promote your talent?
Actors are everything! Without them, there would be no narrative film. I love putting them in the publicity spotlight when I can and giving them all the credit they are due. For example, Jose Villarreal, our lead in FOURPLAY: TAMPA, is insanely funny and totally heartbreaking in this role. We hope he'll get some great character work out of this. He's the kind of comedian/actor that inspires both love and laughter in his audience, which is really a rare gift. He's a cuddly, Latino Charlie Chaplin/Charlie Brown. We were thrilled to discover him!
Q: Any advice for short filmmakers on how to get into Sundance?
Make a film you're passionate about, one that challenges you and your audience to their limits and something you know needs to exist in the world because you've never seen it and you know it to be true. If you are going to do something as risky, as time consuming, as exhausting and all-encompassing as a film, you'd better care deeply about the message, themes, characters and situations you're putting forward. That way, Sundance or no Sundance, you really can be happy with your limited time on this planet.
Q: You mention having a "Whole lot of fun" at Sundance. How can other filmmakers / actors make the most fun of HUGE experiences?
First, try to relax. The first time I went to Sundance with my feature ROOM I and lead actress Cyndi Williams were a bit of a mess. It didn't help, but we got our act together but the middle of the fest and hit our stride when Cannes rolled around. Second, talk to everyone and really engage. Listen and really respond, just don't wait for your turn to speak. Third, remember to have a sense of what you'll say regarding your experiences making the film, especially exceptionally challenging and/or funny anecdotes. Clear all this with your directors/producers first, just to make sure no one is accidentally insulted or you're not supporting the party line. Oh, dance, party and have fun! Just take it easy and stick to a one-drink max limit per party. Sometimes too much fun can get you into trouble.
Q&A with Director Andrew Ahn
FILM: Dol (First Birthday)
Film length: 11 minutes 11 seconds
Q: What is the Inspiration / reason why you made this film?
I made this film to come out to my parents. I knew I wouldn't be able to tell them, to say the words "I'm gay." So I cast my family in the film, but never told them that it was about a gay Korean- American man. The filmmaking process both distracted from and prepared me for the inevitable—that I would eventually have to show my parents the finished film.
Q: Why do you believe that your short made it into the festival?
I believe my short made it into Sundance because it has a very specific point of view. I presented a unique personal story and told it in a way that felt honest to me. The best way to stand out is to be yourself! Don't imitate others.
Q: Does the Sundance team give you insight into why they chose your film?
They tell you a little bit about why they liked the film, but overall the Sundance programming team remains pretty tight lipped.
Q: Do you hope to make a feature of your film?
I would love to! Obviously, I can't come out to my parents again! But the story still resonates with me; it feels rich, layered, and complex. There's so much I could only hint at in the short film. With a feature, I could really explore the themes more thoroughly.
Q: What did you learn while making this short – that could help aspiring short filmmakers?
I learned that filmmaking is hard. If it's easy, you're not pushing yourself. If it's easy, you can do better. There were so many opportunities for me to say, OK, this is good enough! But I kept going and I think it really helped the film.
Q: How do you plan to promote your film at Sundance – beyond the actual screening?
Press, parties, and the internet! I'm really fortunate — my film is one of eleven Sundance shorts being screened on Yahoo! Screen. People can watch the short from the comfort of their own home. No need to brave the Utah cold.
Q: What advice do you have for short filmmakers?
Make something personal, something you're passionate about. If you're bored making the film, the audience will be bored watching it. And definitely surround yourself with good people. People you trust. People who can give you honest feedback.
Q: What do you most look for when casting actors for a short? And do you keep in mind their potential to support a feature version of the film, in the future?
I'm looking for actors who have similar life experiences to the characters in the film; they don't need to have a lot of acting experience. They just have to be comfortable with who they are. I definitely keep in mind their potential to support a feature. But in some ways, the short is the more difficult challenge for the actor. You have less time to portray a fully realized character. You can't afford a misstep.
Q&A with Director Rhys Ernst
FILM: The Thing
Film length: 15 minutes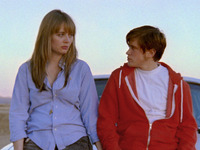 Q: What is the Inspiration / reason why you made this film?
My goal was to tell a story about a transgendered person in a narrative larger than their identity, and to fold gender into universal themes that any audience member can relate to. Inspiration for the film includes the work of Pedro Almodovar, Todd Haines, and Gus Van Sant, who invoke queer themes while transgressing a strictly LGBT genre, putting forth humanistic, emotionally complex stories that are universally engrossing.
Q: You used kickstarter to get this film up and running – any advice or lessons learned from that?
Kickstarter is great, I've used it twice. Not only can you raise a lot of money, but because it's so public it generates a lot of awareness and interest in your project early on in the process. In my first campaign I went a little incentive crazy. I offered rewards that came from all over the place that became available at wildly different times. It was really difficult to track everything, manage and distribute everything efficiently. It created a lot work in the back end. For my second Kickstarter I kept the incentives really simple. Another mistake I made during my first Kickstarter was that I didn't build in enough buffer money in my fundraising goal to offset the fees that Kickstarter and Amazon collect (up to 9% total). One other tip: always donate to of your friends' crowd funding efforts in between your own campaigns– what goes around comes around.
Q: You've used Social Media to raise awareness as well – any insight into how important Social Media is for filmmakers and how to best use it?
An example of how I used social media was to target LGBT and especially transgendered communities for casting purposes. One of the lead roles in my film is a transgendered man, and I was committed to casting an actual transman. I held an extensive nationwide search to find the right person and social media was a huge part of it. If you're dealing with niche groups, the most important thing is to educate yourself as much as possible about the community you're targeting. Niche groups are rightfully wary of being exploited or misrepresented by outsiders. It is fundamental that someone reaching out to niche communities educate themselves and be able to demonstrate their understanding in a compelling way. It's more than just email blasts and reposts; you have to gain their trust.
Q: You called Sundance "The Olympics of indie film" – how do you pre-prepare for the events you will encounter out there?
I've been getting as much sleep as possible ahead of the festival, taking vitamins, that sort of thing. I even went to the gym a few times! The other side of it is to prepare and practice your press notes, elevator pitches, sound bites, anecdotes, and so on. Public speaking and being "on" all the time is hard to switch into if you've been staring at a computer screen finishing your film for months. It gets easier with practice so having a few warm up sessions is helpful.
Q: Do you have a feature of your short, The Thing, already in mind or written?
A feature hasn't been written out yet, but there's a great deal more I would like to do with these characters. I feel like I've only scratched the surface. There's a lot more to mine.
Q: What doors have already opened for you by getting into Sundance?
There's suddenly a lot of interest. There's a lot of perks that come with premiering at Sundance– filmmaker support, discounted services and so on. That said, no one outside of the festival team has even seen the film yet! My hope is that the bulk of opportunities are still to come.
Q: What is the thing – that you most look for in actors, while casting?
I respond to a naturalistic approach to acting. I hate it when actors are too showy, self conscious, or performative. If someone comes to me with that kind of showboating, I try to break it down and get them to authentically connect with the material and drop their facade. For us to get there together, the actor has to really be willing to work and go there with me and be willing to build trust.
Q: What did you learn about short filmmaking specifically – that could help other filmmakers?
I'm really happy with The Thing and the kind of film it is, but it took up an incredible amount of time and money. It was shot on super 16 with a whole crew on location. It's a very specific way of working. That said, I'm in the middle of a new short that has a completely different process. It's being shot very casually on a 5D. The shoots have been spread out over several months until it's convenient to pick it back up. The script is really lose and there's a lot of room for spontaneity. I don't plan on working in this way on every project, but it's been really liberating for the time being. It's kind of like getting out of a super serious relationship and having a fling with someone totally different from your ex. I would recommend short filmmakers to work in ways that are foreign to them and try totally new methods. You never know what will stick.