Neither rain, nor sleet, and certainly not snow..
Nothing can stop a dream from happening for those who are truly passionate – according to these 10 creative peeps that NYCastings met up with at the Sundance Film Festival where a ton of snowflakes 'Sundanced' along with us.
Here are 10 reasons to keep going… or as one actor says… to, "be like a buffalo in the snowstorm."
RASHIDA JONES – On realizing that hard times bring new gifts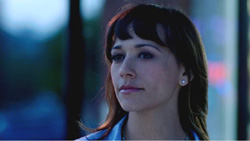 Q: Why do you continue through the harder points in this business?
You learn how much you love something by the amount of adversity you face in trying to make it happen. We faced a lot of that with this film (Celeste and Jesse Forever). Every time something went wrong, we got another gift. We got a wonderful group of people who came together just because they wanted to make a movie.
Rashida attended Sundance as a co-writer and star of Celeste and Jesse Forever.
Synopsis: A divorcing couple tries to maintain their friendship while they both pursue other people. Check it out: Celeste and Jesse Forever.
JOSH PAIS – On re-engaging
Q: Can you share a time that you wanted to give up – but didn't – and the reason / what pulled you through?
I have been doing this for a couple decades. And I certainly have had times where I have said to myself "Done. Not doing this anymore." The beauty in those moments is that when I did re-engage, I had less ego attachment and was more focused on the creativity of the art form, and less attached to reaching a certain level.
Being overly focused on getting somewhere other than where I was never serves me.
It's important to 'quit' thinking that if you reach a certain level that everything will be better.
Start by playing that you've already arrived and the universe will align around that vibe, and you will book great jobs.
Josh attended Sundance with Price Check and Arbitrage.
Check out Price Check: Pete Cozy is having trouble resolving a happy marriage and family life with rising debt and a job he hates.
AND Arbitrage: A troubled hedge fund magnate desperate to complete the sale of his trading empire makes an error that forces him to turn to an unlikely person for help.
DREAMA WALKER – On trusting instincts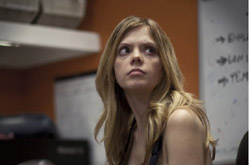 Q: How do you keep up your positive energy without getting sidetracked?
I am still very much in the mindset that I like to work on things that I am passionate about and care about. I carefully select projects and trust my instincts on who I can work with and jive with. And I find that if you are passionate about your work… it is magic.
Q: Ever second guess yourself?
Absolutely. For a long time my focus was to break into comedy and I kind of forgot that as a kid I would sing 'Le Mis' into a mirror and cry. I forgot that I am innately very aware of my emotions and I love dramatic acting. I was excited to do this film (Compliance). To prepare, I went back to Stanislavski, revisited and tried to think a lot about humans and the way we adapt when we are put in traumatic situations and the stages of grief we go through.
Dreama attended Sundance with Compliance.
Synopsis: When a prank caller convinces a fast food restaurant manager to interrogate an innocent young employee, no-one is left unharmed. Based on true events. See what the controversy is all about: Compliance.
HUGO ARMSTRONG – Creates his own work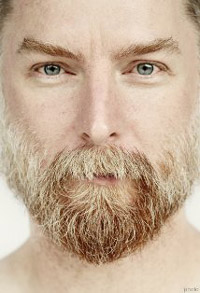 Q: Your film (OK, Good) is set against the backdrop of being an actor in Los Angeles and the toll it can take on your soul. What is your advice for actors? How/why should they keep going?
Acting is really hard on your soul. It can completely stomp you down into someone that you never thought you would be, and not in a good way. This film (Ok, Good) is an examination of that. Dan and I have known each other for a long time and I would come back after a de-humanizing auditions. For example, at one audition everyone was asked to put dirty wastebaskets on their head and tromp around. It was people just hoping and begging for one place, in one job, that I wouldn't imagine they would be proud of anyway. You have to decide right then if it is that important to literally turn yourself into garbage for a national corporation, to be a part of their campaign. If there is something else you would rather do – then you do not have to feel like a jerk for not wanting to feel like a jerk all the time. You should feel good that you went through the experience. For people who are inclined to continue with it, if you have any desire to write your own stuff – that is the way to go.
Hugo Armstrong came to Slamdance with OK, Good.
Synopsis: A series of demoralizing auditions and a cultish movement workshop push a struggling actor towards the edge. Check out: OK, Good.
BRAD DRYBOROUGH – On having nothing else to fall back on
Q: Your film, Doppelgänger Paul, has a lot of melancholy moments in it… what advice keeps you going through the harder times in this business?
Mine comes from the David Mamet quote, "Those who have something to fall back on, invariably fall back on it." I have nothing to fall back on. I do other things, I write and direct but it is all within the thing that I want to do, which is film. And the part I am most passionate about is acting. There is nothing that is going to fulfill me in the same way. It is about commitment. And I never set out to be a star. I set out to make my living having fun. It's important to know that anything that you do will have ups and downs. You will want to quit anything you do.
Also, find good people to surround yourself with because you are auditioning for a lot of odd stuff and feel like a meat puppet. It can suck your soul. So find that group, those people that can help you feel good as you are fulfilling yourself.
Brad attended Slamdance with Doppelgänger Paul.
Synopsis: The unlikely relationship of two lonely men whose connection sets off a chain of events resulting in the loss of a thumb, the theft of a manuscript, and two appearances on a popular morning talk show. Check out: Doppelgänger Paul
TYGH RUNYAN – On being like a buffalo in a snowstorm
Q: What keeps you going as an actor?
There is a lot of commerce involved in film and television and that complicates things because there are a lot of people who aren't passionate about the craft, who just want to be famous. For me, it is about self examination… "Do I need to do this?" and I am like "YES, I love it."
Unless you do love it and have a passion for the craft, for telling stories, collaborating, and surrendering – then there are a lot of easier ways to make money and easier ways to be famous.
If you do feel passionate and have a love of acting but feel stuck – just never, never, never give up. Be like a buffalo in the snowstorm. They lower their head and they keep walking. If you feel like acting is your purpose in life, you have no choice so enjoy!
Tygh attended Slamdance with Doppelgänger Paul
Synopsis: The unlikely relationship of two lonely men whose connection sets off a chain of events resulting in the loss of a thumb, the theft of a manuscript, and two appearances on a popular morning talk show. See double at: Doppelgänger Paul.
ADRIAN BUSTAMANTE – Finds the positive!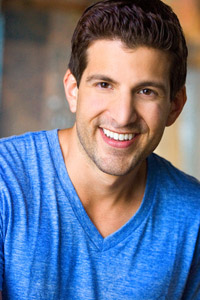 Q: Can you share a time when you wanted to give up – but didn't – and the reason / what pulled you through the harder times of this biz?
Any actor is going to go through the trials and tribulations of this business. For myself, I have heard "No" way more times than "Yes." And I have been on hold for big films and television shows that I didn't get. The biggest one was last year with the film "J. Edgar." I was one of three or four people that were going to be cast as William Monohn (billed as Gangster) and they dragged it out for a month, not letting me know what was going on. That situation was disheartening because I was really close to working opposite Clint Eastwood and Leonardo DiCaprio. But then I took it as a positive – that this big director chose me as one of the top three or four people. So, I kept my head high and kept auditioning. Things like that can really hurt someone because they take it personal. But as actors it isn't personal, it is just the way it works in the business.
Adrian attended Sundance promoting his upcoming projects including ABC's "Don't Trust the B—- in Apartment 23″ and Dark Harvest.
M SHAWN CRAHAN OF SLIPKNOT – Would die for his art!
Q: Can you share a time that you wanted to give up – but didn't – and the reason / what pulled you through the harder times of this biz?
I am an only child and grew up in my own imagination. I loved my dad very much but he suffered from alcoholism, and in a way that helped me become who I am. They isolated me and built me an apartment in the basement at age 4. I ended up teaching myself how to live. I get through it by trying to love more than hate. It is easy to hate and do wrong. Every day, art has been trying to kill me.
No matter where the industry is, no matter what is going on, the bottom line is… You should try everything. A band shouldn't just sit down and worry what everyone else wants. If you are doing it just because you love it, you will get everything you want. Forget about the labels and the requirements. If you are good and love what you are doing, you will get to call the shots. And love means that if practice is at five, be there at four. Die for your art
Shawn of Slipknot (an American heavy metal band from Des Moines, Iowa) was at Sundance promoting the launch of their new company Living Breathing Films.
MARZ LOVEJOY – Uses hard times as fuel.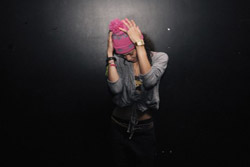 Q: You started so early on in this biz, how did you find the strength to keep going?
My mother has been a very big supporter so that has kept me going and also just a love of the arts. I started early modeling and with commercials, exposed to music. My father is a DJ and my mom an artist so just the drive and passion for the arts kept me up. And writing, even when I feel down. That is the best way to feel up again. Sometimes when I am feeling my worst, that is when I can get the best work done. I embrace the challenges and use them as fuel.
Marz began her journey at two, when she and her mother relocated to California. The repetitive phase, "Don't tell me no, tell me yes," demandingly flew from her lips. She came to Sundance with LUV.
LUV Synopsis: Over the course of one day, a shy 13-year-old forms a bond with his troubled uncle. Check out: LUV and www.marzlovejoy.com
MIMI JEFFRIES, PRODUCER – On team work!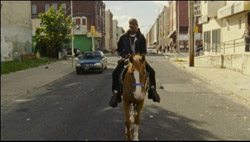 Q: Tell us about the challenges of making I am John Wayne and how you kept pushing through it.
We had a young minor, non actor, riding on a horse through some of the most dangerous sections of Coney Island and it became a logistical nightmare of dealing with the animal and with insurance. We went through rounds and rounds of insurance applications with our school and ended up having to do a 50 page security document including the routes that the horse would take, how it would stop, and all the child labor laws – every detail possible. We had a lot of people against us but collectively, as a team, we felt as if the story had to be told so we fought for it.
Mimi attended Slamdance as co-producer of I am John Wayne.
Synopsis: A lyrical portrait of 'Taco', a young urban cowboy struggling with the death of his best friend. Check out: I am John Wayne