Ready to explode on the indie film scene? To strut down some film festival red carpets? And finally get those locked doors to burst open?
Well get your inner dreamer ready for intense inspiration because actress/producer Summer Crockett Moore recently scored indie success with her film JUNCTION, and she's dishing about all of the sweet opportunities that success brings with it.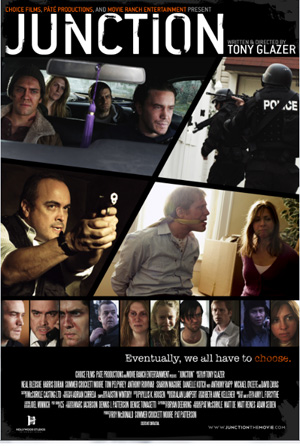 Summer Crockett Moore is an award-winning actress, voice-over artist, and producer living in New York City. She starred in, and was a producer of, the edge-of-your-seat genre thriller JUNCTION. Directed by Tony Glazer, JUNCTION follows four strung-out meth-addicts who discover a dark secret about a homeowner during a burglary, pitting them not only against the police but against each other.
JUNCTION begins a multi-city tour starting at the famous QUAD CINEMA in New York City on November 15, 2013. You can check out the trailer HERE.
Exciting!
So, tell us Summer – How does it feel for JUNCTION to have such acclaimed indie film success?
I'm blown away. Tony and I will sit and recap what we need to work on next and we just realized this is so full circle – from the little idea that began 4 ½ years ago to now, it feels like we had a meth baby that is really hungry all the time. It's amazing to look back and see the progress. Every step was a little different than we expected, but it is that never give up' mentality that keeps you going even when things change focus.
Has JUCTION's success brought on more projects?
Yes! It's launched so many other projects. That's the domino effect you want – for your work to get more work. Now, Tony is directing 11 Episodes of REDRUM on Investigation Discovery. And, I've been hired to produce two more films, and to act in three others.
What surprised you the most about these new opportunities?
I found that while my acting career has really kicked up a notch (I am now getting offers for projects I don't audition for), the producing career has really launched as well. And this is so exciting for me because it engages a different part of my creative brain.
Do the BIG agents come knocking?
Absolutely! As a matter of fact, the very first thing my manager and I talked about when I won my first acting award was, how can we leverage this? How can we go from here – to your next step?
How are you taking that next step?
I put together an electronic press kit, which is how they pitch people nowadays. And I moved agencies for hosting, voiceover, and commercial to a bigger agency that is bi-costal. So I went from having one office to represent me to having many agents representing me. That was a big change.
Very cool!
Yes! And, Tony got a directing agent on top of his literary and film / theatre agent. It made a lot of sense for people who had their eye on us for a while to stand up and pay attention.
Who else comes knocking, besides for agents?
There has been a lot of surprising press coverage. Tony and I have both had people reach out for magazine interviews. An Australian blogger wrote a whole piece on me. I don't even know how they learned about me. I think at a festival.
We also got a lot of emails from people who want to brand with us, for example Voxer. We have a champagne sponsor who is branding at one of our release parties. We've also gotten an introduction to people in the industry who are helping us package our next film. And that is everyone from mangers, to agencies, to people who want to know what we are working on next because they'd like to help us raise the money.
This must be such a thrill for you!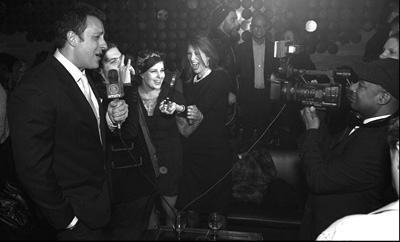 It feels like someone handed us a magic wand to open doors, and it is like that because there were so many doors that we couldn't get through before.
How do you figure out which doors to go through next?
Right now we have to look at what we want our next steps to be. What is our brand? And we have to pick our partners carefully because we learned from working on JUNCTION, which was a great experience where everyone was #filmfamily, that choosing to partner with a team means committing to them for over three years. It is basically living with them day in and out. After JUNCTION, there were some really great projects that came to us right away. But even though we loved the projects, we had to meet the whole team first. In the old days, I just wanted to work and have fun on projects, but now it's like dating where you have to think about who you are planning to marry.
So, the producer's hat brings about a different level of decision making than acting?
As an actor, if I like the project, I will work with anyone in any city. That's because as an actor I get to walk away at the end. But as a co-producer those questions become much more layered. Finding out what your role is has been exciting. We are thrilled to have a couple of cool projects coming up next that are very much our brand, but also different than JUNCTION.
What is coming up next for you?
The next project that we are team lead on is AMERICAN STARE. We partnered with Producers Circle, famous for big Broadway shows. Tony has adapted his critically acclaimed play AMERICAN STARE into a screen play, and through Producers Circle's partnership with Choice Films we are producing a play and a movie at the same time.
What? And Wow!
I know! We're packaging it right now. Judy Bowman is our casting director, and Tony will be directing. And it's really crazy because everyone who signs on for this project is signing up for an Off-Broadway play, a feature film, and a commercial Broadway transfer – all at the same time!
We are also in the final stages of development for a film called SELF STORAGE. Donna McKenna is casting it right now. It will shoot in Tennessee in early 2014. And that came about with JUNCTION during the festival circuit. We won the Jury prize, and at the party this writer came up to me in the bathroom and said she has a fabulous project and is looking for the right producers. She was so smart and fabulous that I said, Let's set up a drinks meeting. We flew to LA for another festival for JUNCTION where we met her Executive Producer Todd Berger, who is a big guy in LA. The four of us clicked so much that we signed on. Katie White wrote the film and is directing, and Todd is Executive Producer. They raised all of the funds on their own and came to us to take care of the nuts and bolts on the ground. It's like kismet. We never would have met them if we didn't do the extended festival circuit for JUNCTION. And it was perfect timing that the bathroom was empty because then maybe she wouldn't have approached me.
How do you keep up with all of this new work?
Someone asked if I was a robot because I never sleep. But it's great to be this busy and have the machine moving this fast. I wouldn't have it any other way. On the really hard days, when I don't leave my computer or shower, I'm like Oh right, I asked for this! And I feel like I'm learning and growing every day, and that is rewarding.
Sounds like you need extra help!
That just came up! I am in the process of interviewing three assistants who are fabulous. I am thrilled. We've been so busy focusing on the project itself that I realized I need an assistant to help take care of me, because I am taking care of everything else. I have to learn how to delegate – This is time to work on the film, this is time to work on me, and this is time to unplug. Though, to unplug is kind of hard to do during all of this because if you unplug at the wrong time, you can miss something. And, if you don't unplug your head can explode. The new challenge is finding how and when to have a rest so I can fully charge forward again.
What would your assistant do to help?
They would literally help me organize what I call deliverables. For example, Tony and I are speaking at NYU, Circle in the Square, and Brooklyn College. Every one of those schools has a packet that matches what they are teaching. An assistant can coordinate those packets, order the champagne, and coordinate with the marketing team. All the things that I set in line to make happen, I would hand over to an assistant to follow through with. It'll be great. And, I am a really good boss. My former assistant and I hang out and have cocktails.
What is the biggest reward of getting your indie film in theatres?
I have to say, right now what I feel to be the biggest reward is that we took a big risk making JUNCTION because it is such edgy material – and the biggest reward I've had is standing in a packed theater hearing the audience's reactions. We've probably seen between 40-50 sold out shows, and to watch the same shock, and sadness, and laughter in the audience as they experience, feels great. Watching the audience as they go through the ride, makes me know that all the hardships we went through were worth it.
It feels great to stand there, see the final product, and say, I wouldn't change a thing.
How does your inner dreamer celebrate?
My inner dreamer celebrates in two ways, and it depends on how tired I am which side gets to play more. She either celebrates with a complete clean slate, playing the game – If I could do anything at all what would that be? And from there that could be anything from doing a documentary in Africa about lions, to having a big action adventure, shoot it up movie which would be fun to produce.
The other side of me, which I tend to live more in, says, Great! Everything worked out. I'm really excited. Now how can I take a direct step from here to where I want to go? That dreamer is more strategic and she gets more tired because there are a lot of ladder rungs to climb up to get where she is going. But that's ok because she's a scrapper.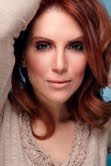 Does the hard work ever get to you?
You know, we made this film happen in a way that felt tangible and good, and the hard work was never the problem. So it is just trying to caliber what is next for us without losing sight of the reason we did it in the first place – which is to tell a bigger story, reach people, and have fun while doing it!
THANKS SUMMER!
Follow Summer @summerlymoore + JUNCTION @Junction_film
And snag your tickets to see JUNCTION – HERE!