It's not AS complicated as you'd think, and totally worth it!
All the world's a stage… yet what does it take to get your act Off-Broadway?
The answer can be as simple as "writing your own stuff" +  finding "a way of workshopping" + being  "confident about the story" – according to Cory Terry, co-writer of the Off-Broadway hit Channeling Kevin Spacey.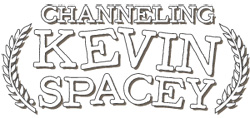 Office Space meets Scarface in Channeling Kevin Spacey (CKS) – the brainchild of Cory Terry and Elan Wolf Farbiarz, which opened off-Broadway at St. Luke's Theatre and is now at the Roy Arias Theatre Center @ the Times Square Art Center (300 West 43rd St, 5th Fl).
"The premise is a guy who is unhappy in his life but seeks solace in his Netflix queue," according to Cory Terry. "One night, while watching movies, the guy decides he is going to make a change in his life and become someone more like Al Pacino. On the first day he is embodying weaker movie characters. Then, he becomes more of a manly Pacino character with gold chains, and that makes his life even worst."
This hilarious comic romp made its debut at the 2008 Winnipeg Fringe Festival, where it promptly sold out each show and garnered the prestigious "Best of Fest" award. Following its success in Winnipeg, CKS was accepted into the largest theatre festival in North America, The Edmonton Fringe where it won another "Best of Fest" award. The show went on to win the same honor at the 2009 Toronto Fringe Festival. 
Reviews poured in for CKS calling it: "A Creative Madcap Imagining!" —Theatremania,  "Satisfyingly Bright!" —NYTheatre.com, and "Good chemistry, tight direction and soul-blackening humour make Channeling Kevin Spacey a must-see!" — Toronto Star.
With their fringe success loaded in their back pocket as rocket fuel, Cory Terry and Elan Farbiarz launched their show into the big leagues of New York City!
Here is a plotted chart of their path to Off-Broadway…
Q & A with Cory Terry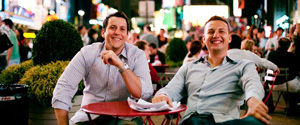 Q: How did you got started with the Channeling Kevin Spacey project?
I co-wrote the show with a friend and he took it through Canada, through the fringe circuit, where it won the Best of Fest award at Edmonton, Toronto, and Winnipeg. We got good buzz there. 
The show was only 45 minutes at that point, and we knew we had something interesting. So we lengthened it . The show is two characters. One plays the lead, Charlie, (JUSTIN R.G. HOLCOMB) and the other plays all the other characters (JAMIL CHOKACHI). It is minimal characters and set pieces. In the 45 minutes you got the broad strokes, and we lengthened it to 80 minutes. There were places to play within the script. How would a weak Spacey type of a character handle a situation? How can we flush out the love story? 
Then, went to Broward Center in Florida, to their 600 seat Amaturo Theatre. We did a weekend run there just to see how it would work on a bigger stage. And it went well. But we added a third actor to play the female roles and it lost something. Adding the extra actress lost some of the humor of guys playing girls. Also, we found that we lost something in the bigger space. In the fringe were doing this show in a 100-seat theatre, where it was intimate. After Fort Lauderdale, we made edits. Went back to the two characters and thought it would work well in a small Off-Broadway theatre. 
We went to New World Stages, and a couple of other theatres, but it was so expensive. The learning experience is – you really don't have to do a full eight shows a week, because it is so expensive. You are paying rent for the whole week: Equity, marketing, flyering teams. There is a lot off costs for the full run. 
Finally, we found St Luke's Theatre. I would definitely recommend it to anyone trying to launch something Off-Broadway. St Luke's Theatre knows that the model has changed, that not everyone has 300k to launch an Off-Broadway show. So, they have week slots and sell rental packages. We started with two shows a week and that cut our costs dramatically. It wasn't nearly as expensive as a full week. We got reviews here in New York. We got word of mouth and buzz. We went to three days a week and played from April 17th, 2011 through July 2012 – 16 months at St. Luke's Theatre.
Q: What gave you the confidence that you could bring the show Off-Broadway?
The fact that it was well received in other places helped. It was tried and true. The fringe festival was our way of workshopping. We had been in the audience enough to know what worked. 
I think it is a lot scarier to take something you just wrote and try to throw it up Off-Broadway. Here, we had that kind of workshopping between fringe and Fort Lauderdale. And when we changed something, we saw what didn't work as well. 
The show has just been something we have always been confident about. And the investment wasn't huge. I was not going to go into debt if it failed.
Q: How much does it cost to put a show up Off-Broadway?
With a two show slot system like we did, plus marketing and the upfront costs – you could launch something from 40 to 50 grand. That includes actors, rehearsals, Equity, marketing, paying a press agent, a general manager, a director, and a stage manager. That's all in. 
We did a couple of things that saved us money. We wrote it ourselves, so there were no royalties on that end. We directed it ourselves. Those two things alone saved us a lot of money. If someone is doing someone else's work, that is going to increase costs. And, maybe for those on a shoestring, a show can be done for 30 grand or 25 grand; just to get off the ground with the right setting. 
Again, we had two actors. If you have a cast of 20, it is going to cost more. If you are a musical, and have to pay a band, you start adding that up and it could be around two grand a show before you even pay the rent for your facilities. Plus, you give 5% of all tickets sales to the theatre.  The numbers can get up pretty high, pretty quick.
Q: You majored in accounting! How in the world did you get into writing, directing and producing Off-Broadway?
The person I worked with, Elan Farbiarz, was really the one who said, "let's write a show together." 
He was performing on the fringe festival in Canada, with other people's work and thought, "Why are we paying people to perform their work? Why don't we write our own stuff?" 
I was working 80 hours a week at my accounting job and was like, "Yeah! Anything else but taxes." 
He was in Florida, and London, and Canada. We were never really in the same place, so we just wrote back and forth. We wrote Channeling Kevin Spacey and another play, The Movies (abridged). 
It started as something fun, and then I went to Canada to watch the play on stage for the first time. Seeing what you wrote on the stage, seeing how people respond to it, is a really good feeling. When the Broward opportunity came up, we worked on it there. And after watching that run, and having a stable day job and a couple bucks to invest, we decided to put it up in New York. Day jobs serve their purposes. 
I've always loved theatre, movies and writing and it was really just an opportunity that presented itself, that allowed me to do this.
Q: What kind of help did you need to get the show up and running – producers, agents, crew, etc?
We produced it ourselves, there were no investors. 
We each had savings, and it is amazing what you can do when you borrow from your 401k at low interest rates. 
We are going to be doing a bigger show next, we are writing a musical tentatively titled Ponzi Scheme the Musical. It is going to be a sort of on its head Bernie Madoff type story, and we are working with a talented musician. On that one, we will try to go to a bigger theatre with an eight show a week run. Maybe at World Stages.  From there we will have to get investors because that is just the nature of the beast, unless you are independently wealthy. 
Of course, once you do a show yourself and it is positive and profitable, it is amazing how willing people are to invest in you versus just saying "we did a couple of fringe shows and it was fun." 
That should help in raising funds for the next one.
Q: How did you figure out the production costs for CKS?
We had an idea of how much it would cost because we did budgeting and took into account what everyone was quoting us. We figured that if they said "this amount," it probably meant "that amount." 
We knew that we had enough money to cover the costs and run for a month and a half, even if no one bought tickets. We knew we would run for at least that month and a half, maybe two months. We hoped we would sell tickets, and that would get us more shows. We went in as an open-ended run, with no plans of closing. But who knows. If word of mouth dried up, or tickets sales – it was always up to the ticket buyers. We were not going to take a long term loss. That was a little scary, but we lucked out and it was well received.
Q: How did you get press?
We had a press agent who sent out some press releases and stuff.  But we were only two shows a week, and it's hard to get reviewers to your show when other people have eight shows a week and are paying their press agent a lot more money. So we parted ways with the press agent a few months into the run and did a lot of our own press. 
I found that with press, the important thing was a professional looking website. Having a presentable web presence is so important. We spent money on designing rack cards for passing out, and posters that we didn't use as much. 
Having that professional looking material, along with the quotes from all of our fringe shows, was very valuable. People see the quotes and see that the show is a known entity. And of course, having Kevin Spacey in the title of the show doesn't hurt either. It helped in getting press.
Q: What advice would you give to others who have written their own show? 
I think that a lot of people don't  know that you can do an Off-Broadway show. You have to deal with Equity, which can be difficult. There are all sorts of fees being an Equity production. But once you get past all that stuff, it is a really great opportunity.
WOW! Inspiring. Congrats to Cory Terry, Elan Wolf Farbiarz, and the cast of Challenging Kevin Spacey (Bios below).
Now  – Zip over to your e-ticket booth now and get seats to this show!
Cory Terry (Writer)
Cory has spent the last three years writing in New York City. Before co-penning Channeling Kevin Spacey he contributed material to the fringe hit The Movies (abridged). Cory has received writing accolades and awards from both foreign and national press and organizations. His work has been covered throughout the blogosphere and praised in print by dailies like The Toronto Star and The Star Phoenix.
Elan Wolf Farbiarz (Writer/Director)
Elan Wolf Farbiarz has spent the last five years producing and directing shows across the United States and Canada, receiving top honors in Toronto, Edmonton, Winnipeg, and Orlando. In addition to producing, he has written several comedic shows. Farbiarz has appeared in and produced international tours of The Bible (abridged),The Movies (abridged) and Channeling Kevin Spacey. Drawing critical success and sold out audiences in every city he has produced in, Farbiarz has also garnered several Best of Fest awards throughout the fringe festival theatre circuit. Farbiarz was born in Toronto and currently resides in Fort Lauderdale, Florida, after spending the past few years in rainy, grey England.
JUSTIN R.G. HOLCOMB (Charlie)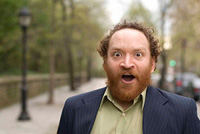 Justin R.G. Holcomb was most recently seen as Wray in Monster with Pan Asian Repertory.
REGIONAL THEATRE: A Christmas Story (Actors Theatre of Louisville); Unnecessary Farce (Gulfshore Playhouse); Katsaros & Wilson's Great Expectations (Mill Mountain Theatre); Jekyll & Hyde and West Side Story (Gateway Playhouse). OTHER THEATRE: Katsaros, McCullough, & Greer's Orphan Train (Pat Birch- dir.); Henry VI part iii (Wide Eyed Productions); 365 Days/365 Plays (The Public); Richard Foreman's Georges Bataille's Bathrobe (The Brick); The Delphinium Mansion by Libby Leonard (American Globe, 2econd Stage), As You Like It (Reduxion Theatre Co.),Young Zombies in Love (Jackson Gay, dir). ADDITIONAL CREDITS: Teen Party Massacre! (written and composed by Col. Holcomb and John D. Ivy). Col. Holcomb is a proud alum of the University of Oklahoma; a member of Actors' Equity, The Screen Actors' Guild, and The Dramatists Guild; and a member of the Honorable Order of Kentucky Colonels.   www.JustinRGHolcomb.com
JAMIL CHOKACHI (Multiple Characters)
Jamil Chokachi just returned from a national tour of the musical Cabaret where he was the Emcee understudy. Credits from LA and beyond include Tobias in Sweeney Todd, Arturo Ui in Brecht's The Resistible Rise of Arturo Ui, Freddie the American in Chess, Dromio of Syracuse in Comedy of Errors, and Puck in A Midsummer Night's Dream in Frankfurt, Germany. As a director, Jamil has mounted such challenging productions as A Piece of My Heart, In the Heart of America and Marat/Sade.  www.jamilchokachi.com