Let's be honest, when a good part comes along who doesn't want it? says Casting Director Adrienne Stern who has placed countless actors into dream rolls. Adrienne helps actors move from point A… to point indie so NYCastings asked for her insider insight.
As a Casting Director, Adrienne Stern's films have premiered at Sundance, Toronto, Cannes, Tribeca, Berlin, South by Southwest, Seattle and other prominent film festivals; taking home prestigious awards. She has a list of IMDB credits that roll on for pages and has several films currently in production around New York City. No wonder Adrienne likens the acting industry to an expedition.
An actor once said to me, a number of years ago, I am not sure if I like the hunt more than the kill' and I think that's very interesting, Adrienne says. As an actor that's probably what the game is. Going out there and playing the game, going in for the audition, connecting with people, having the thrill of being called in, getting the call back and preparing sides.
To get in this game, Adrienne believes actors need to learn the lay of the land…
Actors need to realize that getting a part in an indie film is no different than a studio film. It's going to have you walk down the street at a film festival. You'll walk down Main Street at Sundance. Bloor Street in Toronto. Have it premier in your home town Tribeca. Each project leads to another.
Just like myself, Adrienne says, actors need product in the marketplace. I'm in New York and that's where indie work is so I embrace it and work as hard as I can to get the films that come in. I've established myself through the years and have a good eye for independent material. I think that's why agents and managers really rely on me. They know when they are working with me that their actor will have as much excitement for a project as I do. There is a confidence level.
Films are calling cards. Not all films will end up being the end-all-be-all, but at the end of the day each film is a step toward the next film. There is plenty of work in this town, Adrienne says.
To make sure you get considered for the work, Adrienne strongly suggests having a website.
If I went to an event and met you, I might say I met Kelly Calabrese let me Google her.' Make yourself accessible to anyone whose looking for you, Adrienne says. Also realize that this is a business. The business is about getting cast and you are not going to get cast if you are sitting on your couch watching television. You have to do mailings.
Even if an agency picked you up, they are only going to get you as far as they can. If they don't know me and I only have two days of casting and thirty spots to fill I may not be calling that agency so what does that actor do? How do they get my attention? I think it's a matter of not being afraid to send me a post card. I don't need a letter or your life history; I just need to know how to get in contact with you and what you've been up to.
Do whatever you can do to get in front of a casting director. If you see something you are right for, don't be afraid to submit yourself. You might not hear back but we may become aware of you. We may say this woman or man looks interesting let's see what they are about.'
I also suggest that actors take classes and network. Meet other actors, volunteer at film festivals; keep yourself current in the market with a familiar face, as someone who is marketable. A lot of theatres have internships. Go out to events that they have. That's what it comes down to, Adrienne says.
It's also vital to know who and what you are up against…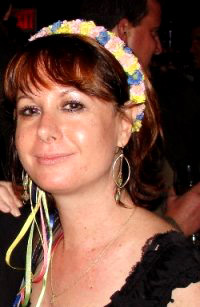 A lot of the films don't shoot in New York. Only when they shoot in New York am I responsible for the 60 or 100 roles, Adrienne shares. If the film is cast outside of New York, I am really only responsible for the two or three leads, maybe four our five.
When casting a script, say with twelve roles, which is a decent amount, Adrienne says as a hypothetical. Say four of those roles are leads and an additional four are supporting roles. The director/producer is looking for well known talent for the leads. They are looking for familiar faces in the supporting roles. Maybe there is a cameo. And the others are day roles where they want to pay scale. So for the most part I am going to agents and managers and not out into the field.
However, when I work on a project that is a teen project I will absolutely place ads, whatever it takes to find that person who may not have that representation. When I did Happy New Year we went that extra step for a couple of the roles because we didn't find that the right person walked through the door. But that's not always a success. A lot of times the people who submit themselves do not have the training we are looking for.
To increase your chance of being THE actor a casting director is looking for, make sure to have your signature moves down…
At the end of the day we know what we are looking for, Adrienne says. For this reason she believes that actors must have a strategy, to know what they want from a scene, and make choices that express their viewpoints.
The biggest mistake actors make is they walk into a room and say what are you looking for' and the response is always we want to see what you bring in,' Adrienne says. Just have confidence. Make yourself easy. Make yourself seem like someone we want to have on our set, someone who we know is going to show up to set and know that this is a team effort and they are going to be a part of the team by bringing ideas to the table. That's why we have auditions. We have them to hear the script out loud, to meet you and see what ideas you have come up with for the role.
As a general guideline…
Adrienne suggests you avoid unprofessionalism and anger toward a casting director about not getting part.
As a casting director, it is our job to bring you in and we are rooting for you, Adrienne says. When someone keeps bringing you in obviously you are doing something right. Don't do anything to antagonize that relationship. Don't show up at the office. We are busy. There is a lot of paperwork behind the scenes. It may seem glamorous but the truth is casting involves making phone calls, deals, typing things out. There is so much that goes on. The best thing for an actor to do is to keep it simple. Go to your audition and that's it.
In keeping it simple, Adrienne recommends not to act the scene out too much. Actors come in, stage it, and are running around. Just stay in one spot, Adrienne says. We are not casting a play or asking for your final performance. And if you are supposed to cry and you do, you let loose, then there is nowhere to go from there. Keep it simple. Contain yourself. Show us what ideas you have and then we will take it from there and shape you. Believe me, when we like what we see we really want to mold you.
To help mold actors into more flexible players…
Adrienne takes the time to teach the nitty gritty details of the entertainment business at several studios in New York City. As part of her process, Adrienne has actors practice with cold readings because in every casting office someone comes in to read and if we like them we may think there is another role for them and give them another scene. You have to be ready to have anything thrown at you, Adrienne says. I teach the fundamentals of the business, what goes on, and how to be flexible. I keep it short and simple but I try to give everyone a little juice.
When it comes to elevating your indie spirit…
Adrienne recommends that all actors have another game plan, for many reasons; financial reasons or disenchantment. Have things that make you just as happy as acting so you're not focused on this one and only thing. Maybe you are a wonderful theatre actor and that's what you should be throwing yourself into. Or maybe you have a knack for voice over or industrials.
For example, I keep getting an email about an event that IFP is having about how to finance your film, Adrienne says. Why not go to that. Maybe you are looking to make a film. And even if you're not, many actors will change their career path four or five times over. It doesn't mean they won't continue to act but they may branch out. Many people have knacks for many things and as an actor I think you need to be aware of that. Go out and connect on different levels.
Taking her own strategic advice, Adrienne keeps busy with many facets of the entertainment business. While not casting projects she teaches or attends events at one of the many organizations she's a part of (Bafta, IFP, New York Women in Film and Television and Ensemble Studio Theatre).
In the future Adrienne would be interested in is hosting a show. And will probably write a book one day.
But for right now, casting is what I do and I love it, Adrienne says. I like the excitement. Every day is a new day. I don't know what's ahead of me. All I know right now is I'm sitting here and I am sure on my Blackberry I might have something exciting like a new project or someone getting in touch with me.
Part of moving upward in this business, involves enjoying the excitement and uncertainty of every day actions.
It all comes down to really enjoying your life, Adrienne says. If you enjoy your life, when you come into your audition it shows. It shows you are a happy person and that's what we are looking for overall.