Greetings actors, it's time to get real with your reel! If you're submitting to projects for any kind of lead or supporting role, the casting director, director and/or producers are going to want to see your work. Also, agents and managers will want to see video on you. DirectSubmit makes it's really easy to show them of course, all you have to do is add your YouTube links in your resume! It's Easy and free to add as many as you need.
Now, the fact is that most actors do not have any type of video on their resume… This is like shooting yourself in the foot!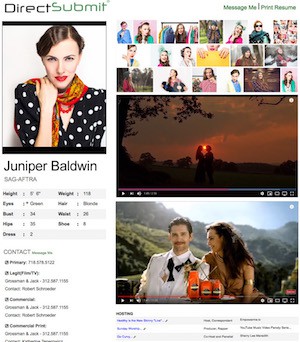 The casting directors need to see you act in some capacity so they know what you sound like and how you move. Unfortunately, the acting business is not one that relies on school degrees or resume credits, it is a 'show-me' type of business. Keep in mind when you have a speaking role in a production the stakes are very high. In fact, the cast, crew and the money are depending on you to deliver the goods when your character is in action. So naturally, the production team is going to want to vet you as much as possible before hiring you, and your reel will give them the first indication of what you're about as talent.
Over the years I've heard lots of reasons why a person didn't have video on their resume:
I don't have any footage!
If you're new and don't have actual video footage, you can simply record yourself doing a monologue, this is not an 'actor's reel' but it shows you performing a script, and if you gave a good performance, that's good proof of your skills. It's easy, and you can do it right on your phone. In fact, I think you should record yourself doing monologues often for practice. Read more no how to do this in my past articles – Self-taped monologues & Becoming a better actor. 
Oh, I meant to do that, but I keep forgetting…
Bad, bad, bad! Don't waste precious time. It's such an easy thing to do and you will get more auditions because of it. Casting directors love watching videos so give them what they want. Don't make anyone ask for it, just get it in front of them right off the bat.
I can't get footage from the last director… 
This is a tougher problem, but basically you have to politely keep on top of them. Often in lower budget productions the casting notice will say a copy of the production is included as part of the compensation. If it's not listed, try to get an agreement with the director that you will get a copy of the footage for your use before you sign on to do a project.
Getting your reels and/or videos on your resume will defiantly be a boost in your career, so add more of it and watch the magic happen.
Additional reading: https://www.nycastings.com/from-disaster-to-master-of-your-acting-career-directsubmitting/