When your young performer gets an audition for a TV show with lots of buzz, it's time to close your eyes, take a deep gulp and maybe even meditate. You want them to go on the audition, but at the same time, you know if they get the job, life will change. Maybe forever.
For young actors David Mazouz of FOX's Gotham and Zoé de Grand'Maison of the BBC's Orphan Black, there was no doubt in their minds about auditioning for their prospective roles. Both have very supportive families which helped make their decision easier.
David and Zoé take us on an in-depth look at their audition processes, contractual obligations, school and how things have changed (or not changed) in their lives.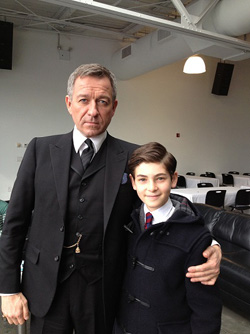 David Mazouz plays the young Bruce Wayne on Fox's hit series, Gotham. fox.com/gotham
David's Twitter: @realdavidmazouz
What went through your mind when you found out you booked the role? Do your agents contact you direct or go through your guardian? Did you know you were auditioning for Bruce Wayne? Who was in the audition room with you? Did you have any callbacks?
I knew the premise of the show before I auditioned vaguely and I knew I was auditioning for young Bruce Wayne, but there were dummy sides so I knew nothing about the character or what they wanted from the actor. So I did the sides which were nearly a monologue and was asked to test for the role immediately after that first appointment, after the Christmas holidays. The first audition was actually with the Casting Director, Sherry and Bruno Heller, the Executive Producer and creator. They were both really great and I felt really comfortable with them. After Christmas, which was about three weeks later, I tested three times in one week after having 103 degree temperature. On the third one, they sent me to make up and hair and they chopped off a bunch of my hair.
My mom found out I booked the role the day before she allowed my agents and managers to tell me because it was my sister's birthday and I got in a bit of trouble at school that day and we were going out for my sister's birthday — so she wanted to focus on that. My sister knew they were going to tell me that day so she had a camera with her and video taped me in a store when they called I was shocked because we waited for a while and it just took a long time so it was hard to believe it when it finally happened. I was so excited that I screamed!
As far as who they go through, it's always my mom. She handles all of my appointments and decides what I need to know and what I don't need to know since I also have school work and other things going on at the same time.
How do you handle school?
I go to a regular school that I've been going to since I was 18 months. It's a pretty small private school and most of the kids live around me and I know their families. The teachers I have always send the work that I have to do to the studio teacher on set who is a really great teacher and she helps me with it. I have always had a pretty easy time getting all my work done and have been ahead of my classmates since I began acting. I don't want to be home schooled and my mom is very against it because I work with adults mostly and she thinks it's better for me to keep me grounded if I'm able to socialize and continue to know people who I've known most of my life. In California or if you're a California kid, you have to have at least three school hours per day whether you're working that day or not. But my school is from 7:50am to 4:40 pm every day and on Fridays until 2pm. So I have very long days and more classes than most kids my age so it's getting harder and harder to squeeze all that into a three hour time. But my mom tries to get me home as often as possible when I'm off for several days in a row so I can see my friends and family and get caught up with the work from the classroom. They have to email classwork and homework as well.
You tweet about the productions you've been on. Is this something you're ASKED to do or you do it on your own? What type of promotional events are built into your contract?
I usually tweet about things I am doing and if I'm working on a production, I am more likely to let people know what I'm doing. If something has been built into my contract, I actually don't know about it so I guess not. No one has ever made my tweeting or social media necessary. Productions often ask us to but there's no pressure to do that and it's usually a memo that goes out to many people about suggestions or what we can and can't send out in terms of material or spoilers.
The only convention that is in my contract is the Television Critics Association which I love going to but nothing is forced ever. The truth is, I really love going to conventions whether it's for journalists or fans. I went to Comic Con this year in San Diego with some castmates and it was awesome and I love to meet people anyway and talk to fans. So I wish they'd put all of the conventions into my contract!
You played an important role as Jake on FOX's Touch with Kiefer Sutherland. What was it like having a role with no speaking parts? Tell us about the guitar Kiefer gave you.
I had to express my emotions though my facial expressions so it was pretty difficult but also I didn't have to memorize lines and once I got the character down, I was so attached to him that I sat like him and ate like him for two years. The guitar Kiefer gave me is one of the best guitars you can buy. He bought me a Taylor and a really beautiful case and tuner. Best birthday was when I worked on Touch, the director, Francis Lawrence worked with an expert in Autism, and she worked with me on my walk and climbing but not really on how to express my feelings without talking. That I think I just put myself in his shoes and what you saw was the external expression of what I did inside. I honestly just thought this is the most awesome job. I absolutely loved that experience cause I could really take the time over two seasons to get to know everyone working on the show. Super amazing group!
What do your friends think about you being in show business?
My friends have never really understood what I have been doing because most of the things I've done were more for adults or the family film I did for Latin American Disney hasn't been released yet. So until Gotham, they didn't really understand what I do or appreciate my work. My friends have known me for so long and they've watched me on little commercials and probably got more excited then because it was a first. The ones that act funny, I haven't stayed friends with. They are really excited now because they are all watching Gotham so I think they have a greater appreciation for my work. No one is particularly star struck about it because I'm just me, their friend. Most of the social events I've missed have been because I have been out of town but I did miss a school trip that we paid for because of work. That was hard but I never got particularly upset because it's what I chose to do. I don't really have much of a say though if I'm working and there's a party, it's just not going to happen. When I was on Touch, one of my best friends was having a party one weeknight and my mom didn't ask for it off because I never really worked at night. That was really really hard because she was one of my best friends. When the Director, the Assistant Director and Kiefer found out, they did everything to get me out on time to go! They even hired a double so I could go as soon as my close ups were done. They were so incredibly awesome but typically that won't happen. You just have to be at work and appreciate the fact that you are lucky and have an awesome job! I've never been teased because of my job by my friends but people do say "Oh you're so lucky!" My mom says luck is important but it's a lot of very hard work too that you're willing to put in that makes all the difference.
What does your older sister think about you in show business?
My older sister is very very proud of me and couldn't be more supportive! She's always been so generous with her love and support and she doesn't resent me for taking up so much of my mom's time. She's a pretty incredible sister and I'm very lucky. This all happened because she bugged my mom to take acting classes and my mom wanted to drop us both off so she could go to the store every Sunday at that time. My sister does a lot of theatre at her school which has a performing arts program. She's actually really hilarious. She does voices and characters and she's done Groundlings and Second City and she loves improv. She also did book an episode of Modern Family and she did a horror film with me a couple of years ago. She really is great though at comedy and she's very natural. She has so much going on in school though that she hasn't yet gotten an agent but she will be doing that soon. 11th grade is really hard she says so she's focusing on Theatre and Musical theater and school stuff. She has helped me run lines in the past but usually it's my mom and sometimes my coach, Connie will come over or Skype with me. She's really awesome too.
David behind the scenes of 6 Miranda Drive with Kevin Bacon.
You recently worked on the film 6 Miranda Drive with Kevin Bacon and other well known actors. Who did you have interactions with and what lessons did you learn?
Miranda was an awesome and really relaxed experience. I worked with Kevin Bacon, Radha Mitchell and Lucy Fry and many other Australians who are just really warm. I didn't necessarily get acting tips but they were very comfortable to be around so if I had a question, I would not have been shy about asking it. Kiefer always gave me a lot of tips on Touch though and the most important thing he taught me was to be respectful of everyone on the set, actors and crew alike and to be prepared. He also told me to make sure I finished school. He was awesome too.
Describe your first day on the set of Gotham. Then tell us about your most memorable day on the set of Gotham.
I wish I could tell you about my first day but I honestly can't remember specifics. The first day of Gotham was the pilot so everyone was a stranger but really nice and friendly. I don't remember the first person I met but we stayed in a Hotel in Manhattan for the pilot and shot on location for the Wayne Manor and the the scene where my parents get killed which is when I worked with Ben and Sean the first time. It was really really fun doing that scene. Bruno Heller, the creator and exec producer and Danny Cannon the director of the pilot as well as a producer were the first group of people I saw and I had already met Bruno so it was all really comfortable.
How and at what age did you connect with your agents? Why do you have a different agent for commercials?
I met my commercial agent at a showcase when I was seven years old and made up a song for an Oreo commercial. Then after a year, he suggested that I meet the agent in charge of the theatrical department. She slowly began sending me out when I was about eight years old and I've been with them ever since. Commercial agents work with commercial casting directors and theatrical agents work with theatrical Casting directors and they do very different things.
What was it like working with Robert Englund in Sanitarium?
On Sanitarium, I worked with Chris Mulkey and Lacey Chabert. Chris is hilarious and fun and wild and loves to have fun and Lacey was really kind and modest and warm so working with them was really great. They are really professionals and both are great with kids.
Tell us about your acting coach Connie Barrett?
Connie is still my acting coach and always will be unless she gets sick of me. She is a close friend of the family's now and she comes to our rescue like a Genie sometimes. I don't get coached for so many roles now because I try to use my own instincts but she will help me if I need help or if I'm stuck. She was my first acting class teacher which was so much fun. So that's how we met. The "Class" I take is a small workshop with a handful of kids that I know including my sister so we just work together on stuff one or more people need to work on based on what's going on or auditions or just trying to get better at a particular thing and Connie runs it so we don't have our natural instincts kicked out of us.
Your work has taken you all over. When you fly out of state to work, who pays for the flight and hotel for you and your guardian?
When you go out of town for a movie, the production will pay for transportation and hotels and per diem as well but if you move out of town to work, you get an amount for relocation and the rest you pay for after that flat amount. The production pays for all of that unless you are on a TV show and then it's just a relocation amount. A car picks you up from the airport where you're working and then when you go home but if you go home in between, you pay for that yourself.
What video game consoles do you have and which games are your favorite?
I'm not a big video game guy but I do have a Playstation and a wii. I don't have a lot of time for video games unless I'm hanging with my friends but we tend to be more physical.
How often do you get new head shots? Which photographer do you use?
The last head shots I got lasted about four years. The one picture I used actually still looked like me until a few months ago so I had to get new ones. I used Brad Ross the first time and Robert Kazanjian the last two times.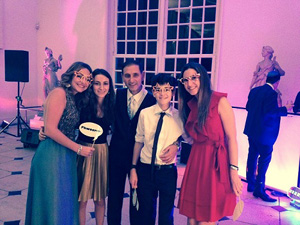 David, age 13, likes a nice balance of family, work and fun. David at his cousin Aliza's wedding in London. Also in pic: David's sister, dad and family friend.
Which do you like better: working on film or a television series? Why?
I like working on films because you know when it's starting and ending so you can sort of plan around that but with TV, it's all unpredictable. But I love the family that's created in both places but if you're on a TV show for a while, there's a family bond that grows more than a movie that lasts a month obviously. I love working so for me it doesn't matter if it's TV or film although with film you usually get to travel and I love to see new places.
What's your advice to other young performers?
My advice is don't give up! Work hard and show up for all of it. And remember, it'll never be perfect but keep trying to get better at the things you're not best at and finally be kind to all the people you meet. You'll see them again and again. It's a small world.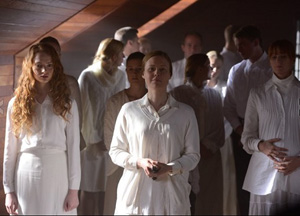 Zoé de Grand'Maison plays Gracie in the BBC's popular series Orphan Black. bbcamerica.com/orphan-black/
Photo by Steve Wilkie. http://www.stevewilkie.ca/
Zoé's Twitter: @ZoedeGM
Tell us about your audition for Gracie in Orphan Black. What info was given to you for the audition? What did you wear? Did you have call backs? Were there chemistry tests?
I was already a huge fan of the show when I got called in to audition. As you can imagine, this made me both very nervous and eager to get in the room. I was sent two scenes, along with the following character description: Sheltered and distrustful of the world beyond her family. A passionate young woman, sure of her beliefs and the values she's grown up with, but given to anger when those values are threatened. What was funny is that, due to the show's extreme secrecy, they'd switched out the names of known characters from the sides. For example, I believe Helena was referred to as Dorothy, so I actually had no clue that I was meant to be talking about her!
As for wardrobe, boy was I off! I went for more of a Catholic School Girl look than a Religious Cult Member look. I remember John Fawcett jokingly commenting on my knee socks in the audition room!
There were no callbacks or chemistry reads. I got the call that I'd booked the part about a month after my audition– I was BEYOND thrilled!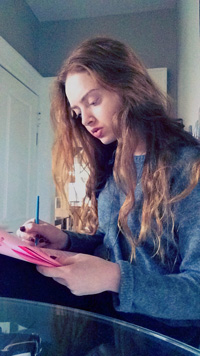 What hobbies do you have?
I have many hobbies. I love to read, draw, play guitar, write and cook to name a few.
What was it like working with Laura Marano in Bad Hair Day?
Laura was great! She's a very sweet, fun and down-to-earth girl and an absolute blast to work with!
How do you handle getting recognized on the street?
I actually only ever get noticed while I'm at work, oddly enough (I work part-time at a sketch comedy theatre as an Usher). People are so great when they come up to me, they're always so happy and so sweet. I love meeting the fans and talking to them about the show. It's really cool to hear what everyone thinks about the show's plots and its characters and to hear their predictions for the upcoming season.
What was the worst day for you on Orphan Black? What happened?
I can't say that I've had a bad day on Orphan Black. That being said, of course there are times when you might skip/stumble on a line or miss a cue, but everyone is very understanding, so, when that happens, you just pick up and try again.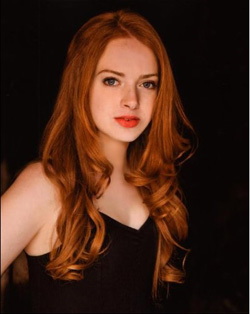 Zoé de Grand'Maison. Age 19.
Photo by Denise Grant. denisegrantphotography.com
Do you have any plans for more school?
I would love to go to school eventually! I've been out of high school for just over a year now and I definitely miss being in a classroom. I was accepted to the University of Toronto for Chemical Engineering (I'm a TOTAL science geek) but I've been deferring in order to pursue acting. I may end up deciding I want to go to theatre school instead, or I may choose to study something entirely different. It's tricky though, when you're an actor, because you never know what your schedule is going to be like, so it would be quite challenging to juggle both acting and school at once.
What was your family's reaction when you told them you wanted to become an actor?
My family is so incredibly supportive. I honestly could not have asked for better parents. I consider myself very fortunate. When I told them I wanted to become an actor, they fully had my back. They even help me run lines sometimes!
Do you have an acting coach and/or take acting lessons?
I am always taking lessons. I have been studying with Lewis Baumander in Toronto for quite some time now. He's fantastic! I also like to take a few other classes all over the place, because I love getting different people's perspectives on acting and on my progress as a performer.
What's your advice to other young performers?
Commit, 100%. Don't do this unless you ABSOLUTELY love it! For me, nothing makes me happier than acting does. I almost feel like I get a high from it. I'm completely addicted. That being said, I can't imagine doing this if I didn't love it so much. It requires a lot of hard work, practice, patience and perseverance and there is so much rejection involved, so it can be tough. If you aren't fully committed in this industry, you will have a really hard time, but if you, like me, are absolutely in love with it, keep working hard, keep pushing and don't give up.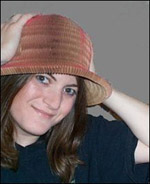 ILANA RAPP. Please follow me on Twitter: @LizardLadyNJ and also remember to follow @NYCastings for the latest New York casting notices, contests and blogs! You can email me at ilanarapp@gmail.com with any questions or ideas you'd like to see in future articles. Thanks for sharing!