Shomari Love is a multifaceted talent in the entertainment industry, with a reputation for excellence as an actor, producer, and director. His passion for the craft and his dedication to delivering outstanding performances have earned him critical acclaim and a loyal following among audiences.
You'll recognize him from his roles on shows such as the Emmy-nominated series The Chi and Black Lightning. Oh! Did I forget to mention Shomari is also a skilled percussionist who plays the African Drums and Marching Snare? (one of my favorite things to watch and hear!)
As of now, you can stream his latest show, Kold X Windy on WE TV!
One of the defining characteristics of Shomari Love is his soft-spoken demeanor. Despite his larger-than-life presence on screen and his continued accomplished career, Love is known for his calm and measured approach to communication. He has a gentle and soothing voice that can put people at ease and make them feel comfortable in his presence. This quality has helped him to build strong relationships with his collaborators and to create a positive environment on set. It also speaks to his humility and his willingness to listen and learn from others, a trait that has undoubtedly contributed to his success in the industry.
You seem to always be working on something, whether it's acting, producing or directing. What was your most recent project and what's on the horizon for you this year?
My next project is a feature releasing later this year in which I will be playing opposite Jordana Brewster. I was fortunate to play a character that represents a positive light in a beautiful story.
What inspired you to pursue a career in acting, and how did you get started in the industry?
I've always been inspired by the works of greats like the late Sidney Poitier and Denzel Washington. My direct inspiration came from seeing people play roles on TV that I thought were relatable and accomplishable. Since I knew nothing about the industry, I started by taking classes, doing background acting, and working as a production assistant. I wanted to learn as much as I could in any capacity related to the industry.
For viewers who haven't seen the show, describe your character, Dirty, in Kold x Windy. What attracted you to this role?
Dirty is a character with a troubled past. My character has reached a point where he is numb to anything empathetic. He's guided solely by revenge. I was attracted to the fact that this project is centered around music — how it is used as a gateway outlet to resolve the various struggles of all the characters.
What was your experience like working on the film Take the Night?
It was a great milestone for me as it was my first action thriller and job in California. We did a lot in a short period of time. I enjoyed the challenge of shooting out of sequence and recreating the situations necessary to produce results as the stakes of the situation increased.
What was your most memorable role and how did you prepare for it? Do you have any particular techniques or rituals?
Shannon in Take The Night was a role that required a decent amount of preparation. I spent a good deal of time observing people that were in similar situations as my character. I try to connect with the character on the human level and understand their experiences. Additionally, I recreated and connected the character's past experiences with some of my own.
You earned a Bachelors of Arts degree from Seton Hall University. What was your course of study? Why did you choose Seton Hall?
My course of study was Political Science. Originally, I thought I would play basketball and go on to law school. However, life is a great teacher and compass. My choices have changed and I'm grateful for that.
You learned to play the African Drums as a child and later joined the Lightbearers Drum Corp in Queens, NY. What exactly are the African Drums and how do they differ from the traditional drum kit we see at a rock concert?
I grew up playing the Djembe. The primary difference is that this drum is played by hand. Also, like most African drums, the bottom part is open. This provides for a different acoustic for the sound when struck.
Why is Mandela a hero of yours?
Mandela represents the epitome of perseverance. He was faced with unfortunate circumstances but maintained his creed and never gave up. We also share the same birthday, so I would like to think the ancestors have blessed me with some of his strengths.
Last year you were developing a historical biopic. Please share your experience in your day-to-day activities regarding this and where can we view it?
It is not finished. My day-to-day is very interesting as I uncover new information that becomes vital to the story. The bulk of the work is research.
What are some of your long-term goals as an actor, and where do you hope to see your career take you in the future?
I would love to work as series regular and lead/direct feature films.
You're a proud member of the Omega Psi Phi Fraternity Inc. What does one need to do in order to become a frat brother at Omega Psi Phi?
First, one must know why they wish to become a member of Omega Psi Phi. Also, you must be enrolled in a college / university and meet the minimum GPA requirement. If you have already graduated, you can inquire with the local chapter and someone will guide through the next steps.
What privileges does the fraternity offer?
A lifelong brotherhood. It also offers great opportunities to network and make a tangible impact on the communities we serve. Countless immeasurable lessons — the list goes on.
What are your thoughts about the Fraternity revoking the membership of the three Memphis officers involved in Tyre Nichols' death?
This is a very unfortunate tragedy. I think the Fraternity's decision was necessary.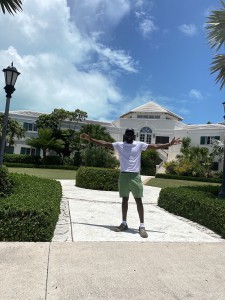 It's so nice to talk to a true New Yorker! You grew up in Queens and have been a fan of The Mets, Islanders and Knicks since you were a kid. Is that because of loyalty to the teams? Today's players are totally different from when you were growing up, so how do you compare your "fan" feelings now vs. when you were younger?
Loyalty and some fond memories as a kid. I grew up playing baseball and basketball. My baseball club had a chance to visit the former Shea Stadium and since then I've felt connected to the Mets. The tide has changed. There was very much team centric loyalty growing up, now there's more loyalty to the players.
Anything else you'd like to say?
I've been a supporter of the NAACP, St. Jude's Children's Research Hospital, and Making Strides Breast Cancer Awareness for over a decade. I think more people should be aware of their missions and impact on the community.
Shout out to my grandmother, mother, late grandfather, and family for the continuous support.
God always has plan greater than ours. In the words of Nelson Mandela, "It always seems impossible until it's done." My advice is to start now and don't quit.