Michael Campion is one of the stars of Netflix Uber-popular comedies Fuller House, currently streaming three seasons with the fourth season in production.
You'll recognize Michael as Jackson Fuller, the teen son of CJ Tanner played by Candace
Cameron-Bure.
Often time, young performers, can have bouts of insecurity. Getting through the fear of what other people think is definitely a hurdle. Michael is no different.
Today we learn a great deal from Michael, including the audition process, first screen kiss being an actual first kiss being an actual kiss (whew!) and the difference in types of magic shows!
Tell us about your audition for Fuller House.
It was a very long audition process. I put myself on tape in Orlando and sent it to Los Angeles. After about the fifth audition, they liked me enough to fly me out to California. From there, I did my final in-person audition. I arrived at Warner Brothers after a very long five hour flight and stepped into a stage-like room filled with the executive producers and casting directors. It was nerve wracking! I guess I did a great job. They told me in the room just a few moments later that I had gotten the part. It was surreal.
You weren't born yet when the original Full House was on television. Did you even know that Fuller House was a reboot when you went on the audition? Did you watch any of the original Full House episodes to bring you up to speed?
I actually loved Full House growing up. My mom introduced it to me when it came on around 8:00 on Nick At Night. I had no clue however that the project I was auditioning for was Fuller House for about the first three auditions. They like to keep projects quiet at first.
You've worked with quite a lot of well-known actors over the years, such as William Baldwin, Denise Richards and Tom Arnold in the feature film CHRISTMAS TRADE. What did you learn from them?
I have to say that I learned one of the most important lessons from Billy Baldwin that I keep with me to this day. One day we were having a very personal conversation after I mentioned I felt uncomfortable wearing a Santa suit in front of a bunch of my peers. I was afraid I was going to make a fool out of myself. He told me that making a fool out of yourself with pride makes you seem incredibly secure to the audience, and in turn it makes you more secure yourself. It was like the light bulb went off and from that day on, his words have stuck with me like the word of God.
You're from Florida. Where did you stay during the filming of Fuller House and the other jobs you did? Who stayed with you?
I have stayed at a number of places throughout the seasons. I mostly stay in apartments but just recently we have leased a home that we will soon perhaps buy. My mom stays with me out here because my dad owns two businesses in Orlando. To be honest, I missed home pretty bad the first season, but slowly I started to make more of a social life out here. I have become friends with more people in LA and have gotten closer to them than I ever did with my Florida friends. Now, I actually prefer LA over Orlando. To keep myself busy I do magic and read a lot of books. I also played video games occasionally. I have to pay for my own housing.
You had your first kiss on screen of Fuller House. Did you practice / do run-throughs before hand? When you read about the kiss in the script, what was your first reaction? Who did you go to for guidance, if at all. Was it a real kiss or one of those fake TV kisses that look real?
It was definitely a real kiss! Ashley and I had to kiss a few times during the rehearsals, but by the time filming came, we were pretty comfortable with it. When I first read about the kiss, I was shocked! Actually, I wasn't supposed to find out until the week of filming, but I snuck into the writers-room and saw on the schedule that I had to have my first kiss.
What do you think about the magician Shin Lim who won 2018's America's Got Talent? How do your magic tricks differ from his?
Shin Lim is awesome! I'm convinced he is an actual wizard. I met him once at the Magic Castle in Hollywood and was amazed at how nice he was. My magic is very different from his. His magic routines are more about the tricks than they are about creating a story. My favorite part about magic is the incredible way magic tells stories. So when I make a routine, I start with the narrative then go on to the methods rather than the other way around.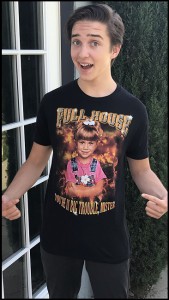 What are your top three video games and consoles? What other tech do you have?
I have an Xbox One and an Alien Ware Gaming Laptop. I'm very picky about my technology because I also code and build robots. My hardware has to be tailored to my needs or I don't use it. For the most part, I only use my phone, Xbox and gaming computer.
You're 16 years old. Have you gotten your driving permit or license?
I have my permit and I'm waiting on my license in November. I think I'm going to get my first car for Christmas, but I'm not sure. The first time I ever went behind the wheel, we posted it on YouTube. You can actually look it up and see my first experience! It was definitely wild. I crashed into a ditch. But other than that we made it out just fine! I've only been behind the wheel a few times, so perhaps when I get more experienced I'll have crazier stories.
What thing did you do that was sneaky?
To be honest, I'm not a super sneaky kid. I don't do anything illegal or crazy, but aside from acting I also hack computers…My OWN computers of course. I've never hacked a computer without the owner's permission. The only time I ever got caught doing something sneaky was when I attempted to pick the lock on my dad's safe because I was just curious to see what was in there.
What do your non-actor friends think about your career?
They think it's really cool and are in support of it! They see it as kind of a mystery because they don't quite understand it all. For the most part they like it, but at times it can get annoying because I have to leave them when we are hanging out and having fun to go to an audition or a press interview.
What type of school do you attend? When you're on set, what's the protocol for school?
I take a homeschooling program for child actors. On set, we have a teacher and we have to get a minimum of three hours of school per day. Any down time we have we are up in the schoolroom with our teacher. Soni Bringas (Ramona) and I go to the same school!
As a successful actor, what are your future acting goals?
My end goal is to be in an action film. One day I would love to play James Bond or Ethan Hunt. In fact, action/drama films are my favorite! If I had to chose my favorite movie it would have to be Inception.
What advice do you have for young performers?
I say…start small. If you want to make it in this industry you can't go into it wanting to be famous because there are 1000 other kids ahead of you thinking the same thing. Love the craft and take it for what it's worth. Always improve yourself by doing plays, making independent films and studying in an acting class.
Anything else you want to say?
Thank you so much for interviewing me! You asked some excellent questions. If you want to find out more from me, my instagram is @michaelcampion!