Beards, tattoos, lots of hair or thinning hair, the clothes you wear. You may not know the names of these two actors but you've certainly seen their faces. When you talk to your friends about them, you say, You know, the guy from 'So and So'! or C'mon, you know who I'm talking about! He played the sister's brother's bodyguard!
Perhaps because Character Actors Jamie McShane and Nils Hognestad play each character so distinctive from another that they are barely recognizable from character to character. What magic do they use to accomplish this feat? Let's find out!
P.S. When you get to the end of each section below, you'll see a bonus question! You like how I threw that in there? Yeah, you know you liked it.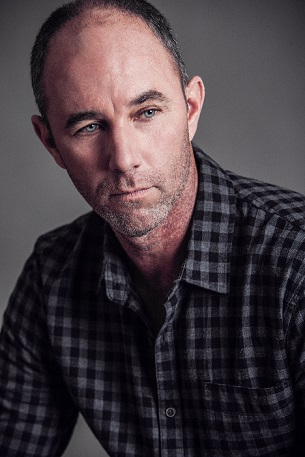 JAMIE McSHANE is in Netflix's new original drama series Bloodline which just got renewed for a second season. He also played Cameron Hayes in FX's hit Sons or Anarchy. Photo by Vince Trupsin.
Jamie tells it like it is. Must be the Jersey in him. You're cringing. Don't cringe, because Jamie is one of us. (replace us with anything that relates to you.) This guy visits home a lot, so if you're walking the streets, be on the lookout.
What did you know about your character Eric O'Bannon at your audition? What did you do at your audition(s) to win the role?
Eric was described as: "Long-haired, skinny, tattooed guy from the Keys." I thought, "Ok! I'm 0 for 4. They really want to see me? How am I going to make this character believable?" But once I read the sides (audition scenes) I connected immediately to O'Bannon and knew how I wanted to bring him to life. I was auditioning for Debra Zane – big-time Casting Director. The show was created by the guys who did "Damages" – big-time! NETFLIX – big-time!! I wanted to make a great impression on them for other roles, BUT, not this one only because I didn't want to be out of town, away from my family.
What worked for me was that I was extremely loose – no pressure because I didn't care about the end result (getting the job). I just loved the role and felt totally free to do my thing. Fortunately, I got it and it's been the most amazing experience of my career.
Since your Bloodline character's physical description was completely opposite of what you look like. why did your agent send you on the audition?
I have had a few auditions where I was not "right for the role," as per the character description, but I was able to bring something to the part that was interesting enough to sway the producers my way. Fortunately, my agent and manager seem to have enough faith in me, and the choices I make for a role, that they will fight to get me in for a part that I may not seem the right fit for on paper.
How do you make your characters seem real? What's your trick?
No "trick" really. I think I have pretty good instincts and I trust them. I also seem to have a decent barometer for what I accept as believable for myself. I can sense when things are "forced" for me and I try to adjust and find where it feels genuine.
When you're at an audition in the waiting room, do you 'size up' the other actors auditioning for the same role? Do you make contact or keep to yourself?
I do size up the competition, but a lot less now as I have gotten older and feel a bit more established. It is like seeing an opponent in a tennis match…Sometimes I would think, "Ooohh, if I beat this guy out for this role that would be a big win for me." Sometimes it happened, sometimes it did not. I say hello if I see someone I know but I do not get chatty. I stay focused.
What imperfections do you have when it comes to acting?
I think everything about my acting is chock-full of imperfections, but I welcome them and I think that helps bring some realism to my work. It is interesting, come to think of it…I am open to the imperfections in my acting world but am tough on myself about them in my real life. No wonder getting lost in a character is more comfortable than dealing with the everyday world.
Tell us about your first recurring role which was on Kiefer Sutherland's 24 – your character was White House Press Secretary Gerry Whitehorn. Did you have a trailer? What foods did you eat on set?
Yes, a trailer. I ate everything on set. I really screwed that one up! Joel Surnow, one of the creators of "24", had me in for an audition but the character was only in one episode and then killed off. Joel decided to wait for a bigger role for me. One night, awhile later in the season, I got an offer to work the next day as Gerry Whitehorn. I was PSYCHED!! I had a very busy day before I got to set that day but felt that I had the dialogue down. It's the ONLY time in my career, thus far, that I blanked on my lines take after take. It was horrendous!! I spoke with Joel the next day and told him I screwed up in a big way. He said,"You haven't screwed up until I tell you you have. I'll call you back." I was so depressed all day, but Joel was great. He called me back that night and assured me all was okay and gave me another five episodes. Thank you Joel!
How do you prefer your scripts?
I prefer to have a hard copy, but I like to be eco-friendly so I read scripts on my iPad and then just print the pages I need to memorize. They usually are sent to me in a .pdf – I'm not great with electronics and .pdf's are the easiest for me to open. I do not highlight my lines (not sure why). We did get full scripts sent to us on BLOODLINE.
Tell us an acting story about "If I knew back then what I knew NOW…"
If I had known how much more work would be available to me in LA as opposed to NY I would have gone cross country a lot sooner. A few people encouraged me early on to move West, but the East coast was home and hard to leave.
What's it like doing one episode of a series like House, M.D. vs. more than three episodes like Sons of Anarchy?
It's fantastic to get to do multiple episodes on a show!! Although I'm very grateful for any work, and some of my "one and done" Guest Star roles have been amazing experiences for me, I get to dig deeper with recurring roles. I get more time to explore and play with the character and I get to bond more closely with the cast and crew. Most of all it allows me to feel like I'm part of the fabric of a show. That's an amazing feeling!
Have you ever / are you taking acting lessons?
I took a six week intro class back in Jersey when I first started, and then did a class once a week, for awhile, from Max Gartenberg in NYC. We worked on monologues and scene study. I have not taken a class in about 20 years. I liked class but certainly liked working better. Max always encouraged me to take any job I could – which I did. When I got to LA, I did a lot of Casting Director workshops. I looked at them as investments in my career, and I did not know what else to do to get seen. These helped me hone my work and got me noticed.
When you auditioned for your role of Eric O'Bannon for Netflix's new original drama series Bloodline, did you have any thoughts about your paycheck vs. working on films such as Gone Girl and Argo?
Ha!! Fun question…no, not for the audition. For an audition I really only think about, "Who is this character? How can I bring him to life and make him genuine, unique, and connect to the words written for him?" As an actor, you are aware that one role could be a game-changer for you, but I didn't think about the money part until I realized I was actually a contender for the role.
At what point in your career did you obtain representation by your manager and/or agent? How'd you choose them or how were you introduced to them?
I met my fantastic agent, Kim Dorr at Defining Artists (also Dede Binder and Breanna Bell at Defining), about 13 years ago. Sandi Logan, a very talented and compassionate Casting Director, whom I had auditioned for introduced us. Devon Jackson, my truly amazing manager at Trademark Talent, was recommended to me by Bonita Friedericy, an actress who's work I love, about two and a half years ago. Both Defining and Trademark have been vital to my career.
What's your favorite TV/Film genre? Why?
Suspenseful drama (like BLOODLINE!!). This style keeps my attention and curiosity and helps me get lost into it's world and the journey the characters are taking.
What is your preference: traveling for work or working close to home? Tell us how working away from home goes down and the most memorable time you had away from home that was work related.
I love traveling!! But, since I have kids, I would prefer long term gigs that were close to home. When you are a Guest Star or a Recurring role on a show, then the production company pays your way for travel and hotel and gives you a per diem for food – it is fun!! When you become a Series Regular (which is an amazing feeling), you get paid more but you have to pay for your own place to live, your own car, and most of your flights back and forth to see your family. Meanwhile, you still have to pay for your life back home unless you give it all up, uproot everyone, and move your family to the location. You do receive a "one time moving fee," but it does not cover much.
Do you send thank you notes to Casting Directors, Directors, etc?
Sometimes I will call and thank them. When I got this role on BLOODLINE, I went to a few different Casting Directors, who helped get my career going, and thanked each of them in person. A few others I called and expressed my gratitude for their help in my career.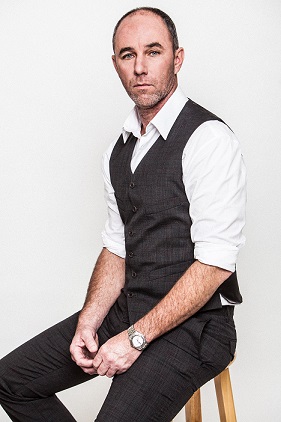 Jamie's headshots are creepy calm. Now match that with the characters he's played and wah-la! You get it now, dontcha'?
Have you ever been late to an audition?
I am pretty neurotic about being on time. If I had ever been running late, I would call my agent or manager and ask them to tell Casting that I was a bit behind. I usually get to auditions at least a half hour early so I have time to settle into the character.
How do you feel about Bloodline being on Netflix versus another medium?
I LOVE IT!! I think NETFLIX is a great company and on the cutting edge of television. I think the "binge watching" style works very well for BLOODLINE as it's more of a long movie than individual episodes. I'm grateful to NETFLIX for the freedom I felt in playing Eric. They seem to hire the creative people they want and then allow that talent to work without putting up barriers against their creativity.
Have you ever purchased clothes or props for a specific audition?
I usually try to go with what I already have. I hold on to clothes for a long time because of this. But, I have purchased quite a few things over the years. One was for a comedic film where the character was a cop with a thick mustache and big sunglasses. I went all out and had the Casting people laughing hysterically and they said, "Ok Jamie, we will see you on set." I was very psyched because comedy does not come along my way too often. I never heard from them. A year later I found out that the role had been written out. I have never returned anything I got for an audition. I make sure either I can use it for something else or it is really cheap.
Name an actor on a TV show right now that you'd love to work with. Why?
Ben Mendelsohn, BLOODLINE, because he's amazing!!! OOHH, I've been working with him!! Lucky me! Kyle Chandler….oh, I got to work with him too. Hmm, OH! Sissy Spac……wow I am lucky!!
JAMIE'S BONUS QUESTION:
Anyone throughout your life ever misspell your name as Jaime? If yes, did it piss you off?
In college people started calling me Jaime (Hymie). A buddy, John Lehning, asked why? I said it was Spanish for Jamie. He insisted it was Hebrew and gave me the full moniker, Hymie Abromowitz. I spelled it O'Bromowitz to bring in some Irish. When it came time to get my name on a Jersey for Intramurals another buddy, Darin Voss, shortened it to "Hymo." Everyone from University of Richmond called me Hymo. No, it didn't piss me off at all.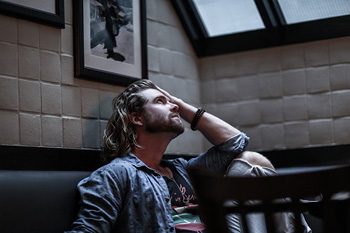 NILS HOGNESTAD made his mark in the entertainment industry with his comedic talent and charming looks. Nils' Twitter: @___AndTheNils , Website: http://nilshognestad.com. Photo by Karolina Turek.
So I'm working on this article at 9:30pm instead of watching one of my shows. But I gotta tell ya' – listening to Nils Hognestad is like the best bedtime story ever! He has such an incredible imagination that it's no wonder he's been on ABC's Once Upon a Time. Nils also has this spiritualism about him you know, the kind you can't pinpoint but you can just FEEL.
Which character that you've played so far was the most interesting to play? Describe why.
I was going to say Mitchell from CW's "Backpackers", but playing an annoying drunken Australian came surprisingly easy for me. What was much harder was playing Fred in 'My Sister's Kids and the Gold Diggers'. I played a greedy Gold Digger who would do anything for gold – even kill children for it. The hard part about that was that it was all in Danish, and I don't speak Danish. While we were on set in Quebec filming with a primarily French speaking crew (I also don't speak French), I had to aurally learn my lines from the Danish crew members that were flown out for the project. I don't know if you've heard Danish, but it sounds like you have a potato in your throat. That is not an easy sound to emulate and to pass off believably as your native tongue. Oh! And we were also working with children and trained raccoons and bears, so even when I did think I had the scene perfectly prepared in my mind, a kid or a bear would fart or something.
Have you ever had a conflict on set with another actor or director?
You know, I thrive on having positive relationships with everyone I encounter; I have a hard time NOT getting along well with people, but in any work environment, we do encounter people that we just don't gel with, and acting is no different. When I was starting my career, I was shooting a film in Bulgaria where I played a character that was supposed to be aggressively pursuing the lead actress, and she and I just didn't seem to mix well both work wise and off-camera socially. It was a conflict that was never addressed, or even one that was so great that it needed to be addressed. As we were all in a foreign country together, the cast and crew spent a lot of time together, and she and I just remained polite and cordial with one another. As for acting alongside one another, I'm not sure what she did technique wise, but I found myself needing to physically score every scene. I got as specific as planning the length and types of breaths I was taking to emulate the look of feeling lustful for this person I struggled tolerating. I did that for my prep for the scene, and during shooting I also replaced her with someone I would find aggressively attractive. Can't quite recall who that was anymore…
Tell us about call times.

Call times can be at any time. Sometimes they are at such ungodly hours that you can't even tell if they're early or late. Shooting "Some Assembly Required" is a dream, because you're working on a show with underage children as the leads, so they can't work for longer than 8 hours. So, you arrive at 8 am for breakfast and are home in time for dinner. But then I worked on both 'Once Upon A Time' and JJ Abram's 'Almost Human', and they had a lot of night time scenes with big battle sequences and lengthy, evening forested scenes, so we found ourselves arriving on set at about 6pm for dinner, which they then refer to as 'breakfast' and you work in the darkness until you're fighting with the sunrise. You never know fully when you're gonna be called, and you just have to be prepared for anything.
What is a photo shoot like?
There are several different kinds of photo shoots. There are larger, upscale fashion shoots that do have a creative director that keep reminding me to suck in my stomach and lengthen my neck, a stylist choosing good looks, and a photographer with their lighting equipment and whatever backdrop that's required for the shoot.
Then there are some shoots that are just a photographer and a camera- no lighting, and you with your suitcase of clothes from home. So, anything between those two extremes are possible. Either my PR team will put together the shoot, my agent books it for me, or I contact a photographer, or they reach out to me. You'll know what to wear by the style of photo shoot you do. If you are doing a poolside photo shoot, it's a pretty safe bet that you're not gonna need your ski boots, and if you're doing head shots, you're probably not gonna bring anything neon or heavily patterned to distract from your beautiful face. You'll generally be told by either your PR people, agent, or photographer what kind of looks they're going for if you're supplying your own clothing options. And as for food on a photo shoot? I don't think I have ever seen any food on a photo shoot. I wish there was, but I have yet to find a photographer that wants to shoot me on a diving board with doughnuts and a gut.
In the YTV teen comedy hit Some Assembly Required, what's it like performing in front of a live audience for TV vs. a live audience for theatre?
You know, Some Assembly Required was such a refreshing experience for me. I had done a lot of theatre before, and a lot of film and television, but shooting in front of a live studio audience is a perfect hybrid of the two. While doing anything on camera, you don't get any of the feedback from your performance until it premieres months later; whereas in theatre, you know immediately how your performance is being received. With a live studio audience, you not only get the immediate feedback on your performance, but you also get these wonderful broken 4th wall moments of interaction with the audience while they're setting up for the next take- which you would never get in theatre. It's a rare joy when you get to interact with your audience during the immediacy of filming.
What's it like working with kids on set, such as in MY SISTER'S KIDS: MY GOLD RUSH ADVENTURE?
In the past two years I've found myself on set with a lot of kids, and I constantly have this echo of Jim Carrey in my ear. He was quoted in an article once, saying that working with children and animals had taught him more about acting and life than working with adults. I couldn't agree more. The natural openness of animals and children is something I think every adult needs to strive towards in acting, and working with children is a constant reminder to simply be present and not focus on how you're performing or how you look.
What clothing and shoe brands do you like to wear and why?
I go through phases, but right now I'm obsessed with Moods of Norway clothing, and John Fluevog shoes. I love Fluevogs because they're local and always unique statement pieces. And Moods of Norway I love because A) They're Norwegian, B) They have a sense of humor to their clothing (all their tags say that the clothes were made by really, really pretty blonde girls), and C) Their logo is a tractor. I feel like I'm staying true to my father's farming roots by wearing their clothes.
Tell us about your family history and your first name, Nils.
Well, I'm a purebred Norwegian – born in Bergen, with both parents from families of 10 and entire family history stemming from Norway. I was named after my Morfar (mom's dad), who died of similar heart complications that I was born with, actually. The name Nils means 'Champion of the People', but it also means the plural of nothing, which I like to think more of as infinite than nothing. Hah!
What's with the beard, dude? Do you use any specific product on your beard?
Hahaha! Well, it started with a whole lot of laziness, then I loved the look, continued booking work, and decided to continue maintaining it. 2014 was the year of the wild beard, 2015 is the year of the short, managed beard. I'm using a product my brother's girlfriend gave my for Christmas – it's an all natural beard oil called 'Bee Well' that is made by one of her fellow students at university.
How many tattoos do you have and where are they placed? What is the reason for each tattoo?
I have one large tattoo that takes up a quarter of my back and I'm constantly getting it extended. It started with a signature – which is a combination of my grandfather's signature, and my own. I have flowers that represent everywhere I've lived and every member in my family. There's a stag, a tree of life, a crab, a butterfly, a waterfall, icicles, and I'm about to get a crow, moon, and our solar system added to the mix. Everything is representative of a very specific time, person, or accomplishment in my life.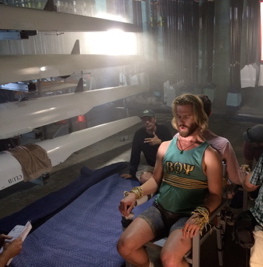 Nils even got into character for this NYCastings interview and shared this never before seen pic!
You were born in Norway but spent most of your childhood in London and Vancouver. Why did you move around? What are the differences you noticed as a child between Norway, London and Vancouver? Do you still have family in Norway?
I moved around so much because of my father's work. He works in shipping and we found ourselves moving to the ports with the best opportunities for his career advancement. My sister and I made the moves entertaining for ourselves – pretending we were Norwegian royalty that were under witness protection, and that at the age of 18, we would return to our parents, the king and queen of Norway. In Bergen, Norway, you could sense how small it all was, whereas London was the opposite. If you blinked for too long, you'd be lost worse than a kid in Walmart. Now Vancouver, I found, has this wild, independent nature. I believe any city, like life, is what you make of it, and it will be whatever you need it to be. As much as I hated moving around growing up, in hindsight it was the most beneficial thing for my development. But I have also learned that Vancouver is home. This is where my heart is. The majority of my family- including 43 first cousins – still live in Norway. I visit as often as possible, which is never enough.
What's the most important thing in your daily routine?
Being self-employed, my daily routine changes constantly. Some mornings I wake up and go to the gym after a smoothie, others I wake up and meditate, or on really tough mornings, it's directly to the shower to lie down until I wake up proper. But the constant for me is food. I have to eat within the first 30 minutes of waking up, or else I get hungry. It is all dependent on what I need to get done that day – but I have to do one to two physical activities a day; whether that be yoga and swimming or hiking and gym or water polo and paddle boarding. I try to floss daily, but the most important thing for me is my daily shower. I don't feel properly balanced and refreshed until I've had my shower.
You've done a lot of theater. What's your best and worst theater experience ever, as a young performer and as an adult.
This is a tough question. My best as an adult was playing Macbeth in London. Hands down. Even though I've already played it, it is still a dream role of mine. Call me Norwegian, but I have a very strong affinity to all things dark, morbid, and haunting.
My worst as a young performer? Probably that time I did a show in middle of nowhere Ontario, wearing nothing but a pair of underwear that had bunny ears and a tail. I have never been so aggressively attacked by a crowd of blue haired biddies.
Anything else you'd like to say?
Yah! Check out 'My Sisters Kids: My Goldrush Adventure' in cinemas later this year! It's an adorable film with a wonderful message that everyone in the family will love. Also, Season 2 of 'Some Assembly Required' is now on YTV, and it looks like Mr. Gournisht may be making another appearance!
NILS' BONUS QUESTION
The CD Exchange club you're in, where you switch music CD's with others sounds cool! How did you get involved with the club?

Yah! It's wicked!! I'm apart of a couple CD clubs, and it's just an eclectic mix of people that share our tastes with each other. At this exact moment, I'm listening to Barry Latimore, 'Move and Groove Together'. I have quite the vast taste in music. I don't like extremes of any type of music – except pop. Super bubblegum pop is the only extreme I can handle. I may be Norwegian, but death or black metal is not my jam. Though, I have found myself at metal concerts in the past. I like punk, classical, jazz, funk, soul, pop, musicals, folk, country, and I'm sure there's more. Play me any motown or soul, and I'm melting. I have been doing these CD clubs since 2006, and I don't quite recall how it all began. It was purely a way to keep in touch with friends around the world while I was living in London, and has just become something that has grown to so many people – there are handfuls of people I don't know personally, just musically.